City banker Kweku Adoboli denies 'rogue trader' claim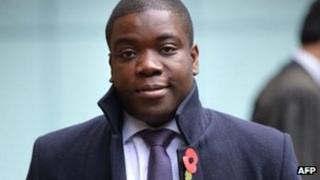 A city trader accused of gambling £1.4bn of his employer's money by booking false trades has told a court he was not a "rogue trader".
Kweku Adoboli instead claimed senior colleagues at Swiss bank UBS had put pressure on him to make riskier trades.
Mr Adoboli, 32, told the jury at Southwark Crown Crown: "I wish I was a rogue trader. I wish I hadn't listened. I wouldn't be here today".
He denies two counts of fraud and four counts of false accounting.
The prosecution allege that the equities trader gambled on the stock markets by making and inputting "illegally conducted and hidden trades" into the accounting systems at UBS.
The defence insist other traders on Mr Adoboli's team knew about his off-the-book activities and the alleged "slush" fund he used to hide profits and losses.
'I just broke'
When asked by his defence barrister, Paul Garlick QC, how he felt when the prosecution used the term "rogue trader" to describe him, Mr Adoboli looked up to the ceiling for and fought back tears, before saying: "It doesn't feel fair."
Mr Adoboli claims senior managers had encouraged him to adopt a more "bullish" approach in July 2011, two months before he sent a "bombshell" email to senior managers admitting some of his trades were false.
He said the switch in position backfired dramatically as the European banking sector continued to spiral downwards, leading to huge losses.
He told the court: "At that stage I broke, I just broke.
"I should have held onto my conviction of fear of the market.
"At that very point I changed my position, that is why I don't believe I was a rogue trader," he added.
Mr Adoboli - who was educated at a public school in Yorkshire and studied at Nottingham University - insisted that if his actions amounted to gambling, then so did the entire investment banking industry.
The jury was told that at one stage he was at risk of causing the bank losses of £7.5Bn ($12bn).
When all his trades were wound up, Mr Adoboli was found to have allegedly lost UBS about £1.4bn ($2.3bn).
'Calculated gamble'
The jury also heard how the trader put a "considerable amount of energy" into understanding what was driving the market.
Waking at 03:00 to start work from home, Mr Adoboli said he would monitor the movements of the financial markets before heading into the UBS offices near London's Liverpool Street railway station.
He said: "The purpose of doing all that investigation and analysis is to increase the chance, to increase the level of understanding and reduce the number of things that are going to be surprises when you make decisions about where you think the market is going".
"If that is just a calculated gamble, then all investment banking is a calculated gamble."
The trial continues.