Search for British boy missing on French island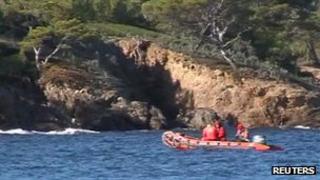 French police are searching for a 12-year-old British boy who went missing during a storm on an island off the south coast of France two days ago.
It is thought Pierre Barnes was exploring the island of Porquerolles by bike when the weather turned on Saturday.
Pierre, from Grantham in Lincolnshire, was on a half-term family holiday.
Investigators have ruled out abduction, as there were no boats leaving Porquerolles when Pierre disappeared.
Rescuers have found one of the boy's shoes on a coastal path about 3km from the rented house where the family was staying, alongside his bike with its chain off.
Police told the BBC they have a large team of officers looking for Pierre, as well as dogs and helicopters. They have widened the investigation to include the surrounding sea.
The boy went missing just hours after his family arrived on Porquerolles, a Mediterranean island close to Toulon.
'Resilient'
French police prosecutor Xavier Tarabeuz said Pierre was holidaying with his parents Stephen and Florence Barnes.
Mr Tarabeuz added that the boy was one of four siblings, the others aged 17, 15 and 14. He did not reveal their gender.
Frank Hedley, head teacher at King's School in Grantham where Pierre had recently started as a pupil, said he was "shocked" to hear the Year Seven pupil was missing.
In a statement he added: "Although Pierre only joined the school in September 2012, in that short space of time he has established himself as a popular member of his year group and elected form captain.
"As a King's boy we know that Pierre is resilient and we continue to hope that he is safe and well".
Porquerolles island is covered in pine forest, with rocky trails leading down to some of the beaches.
About 150 local volunteers are believed to have helped search for Pierre on Sunday.
A Foreign Office spokeswoman has confirmed that a British national has been reported missing in France.
She added: "We are in touch with the French authorities and we are providing consular assistance."