Hurricane Sandy: Thousands hit by flight cancellations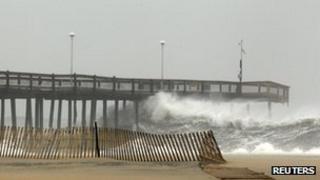 Thousands of transatlantic passengers are facing disruption with the cancellation of flights between Britain and the US as Hurricane Sandy hits the US east coast.
BA and Virgin Atlantic have cancelled all flights to and from New York, Washington and Boston, with Baltimore and Philadelphia flights also cut.
Passengers are being offered the opportunity to re-book or get a refund.
Thirty-eight flights due to leave the UK on Tuesday have been cancelled.
With winds now reported to be more than 90mph, the hurricane - dubbed "Frankenstorm" - is gaining strength, the National Hurricane Center (NHC) has said.
About 50 million people in a 800-mile (1,300-km) swathe of the US are threatened by heavy rain, wind and snow.
At 14:00 EDT (18:00 GMT), Sandy was churning about 170 miles south-east of New York City, the NHC said.
Nine states of emergency have been called in New York, New Jersey, Massachusetts, Connecticut, Rhode Island, Delaware, Pennsylvania, Maryland and District of Columbia.
President Barack Obama warned Americans during a White House speech to follow emergency instructions if they are in the storm's path.
In total, 54 flights from UK airports to the US were cancelled on Monday and 38 departures have so far been halted for Tuesday.
Heathrow Airport said those due to fly to the US eastern seaboard on any airline should check their flight status before travelling.
The airport said on Monday that a total of 12 flights arriving from the US and 47 departures had been cancelled.
The bulk of the cancellations were by Heathrow's largest operator, British Airways.
BA has also cancelled 11 eleven return flights from Heathrow to the US east coast on Tuesday: departures to New York JFK, Newark, Washington, Baltimore and Philadelphia are affected.
Flights to and from Boston are expected to operate as normal, BA said.
The airline has advised customers to check the status of their flights on its website before going to Heathrow.
'Minimise the disruption'
Virgin Atlantic has cancelled a total of 14 flight, saying passenger and crew safety was the "number one priority".
Virgin Atlantic have also cancelled early flights on Tuesday to JFK and Newark Airport in New York. Passengers have been advised to check the Virgin website for latest updates.
United Airlines cancelled 14 departures from UK airports on Monday to New York and Washington DC.
The airline has cancelled all 13 transatlantic flights scheduled for Tuesday: five services from Heathrow to New York, three flights from Heathrow to Washington and services to New York from Birmingham, Edinburgh, Glasgow and Manchester.
A United flight from Manchester to Washington has also been cancelled.
American Airlines has cancelled all seven flights which were due to depart from the UK on Tuesday: five return flights from Heathrow to New York, one from Heathrow to Boston and one from Manchester to New York.
Delta has cancelled three flights from Heathrow to JFK planned for Tuesday.
New York authorities have warned that the storm could cause sea levels to rise, swamping parts of Lower Manhattan, flooding the underground transport system and cutting off electricity supplies and communications.
The Foreign Office said the British consulates in Boston and New York would be closed on Monday, and the British Embassy in Washington would operate a reduced service.
'It's eerily quiet'
UK passengers and those living in the US have described the atmosphere ahead of the storm.
In New York, James Pitkin, who is originally from London, told the BBC: "Everywhere is deserted. The transport system is shut so there's no-one at work."
Others expressed frustration at travel "chaos".
Jan Lundy from Northumberland said she was concerned her daughter - who is currently "stuck" in Virginia - might not be able to get back to the UK in time for her wedding next week.
"She can't leave because of the cancelled flights, so the week before her wedding is becoming very chaotic...
"We think she may just have got a flight for herself, but so far there's no flight for her husband-to-be."
Justin Holder from Andover - who flew into New York last night for business - said he was "now stuck till at least Wednesday" in the city.
"We're a small business, so while I'd rather not be here, I had to come."
Meanwhile, the parents of 65 pupils from Shropshire who are on a school trip to New York are being kept informed of developments by the schools.
The groups of 47 pupils and eight staff from Lakelands School, Ellesmere, and 18 pupils and six staff from Idsall School, Shifnal, were due to fly home this week but it is likely their flights will be delayed in the aftermath of Sandy.
Shropshire Council reassured parents that teachers were "taking all appropriate precautions".