Newspaper review: Gary Glitter arrest widely reported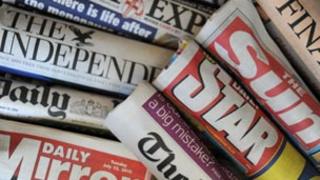 The arrest of former pop star Gary Glitter by police investigating Jimmy Savile sex abuse claims is widely reported in Monday's papers.
"Celebrities run scared after Glitter is arrested" is the headline in the i newspaper.
The journalist who broke the Savile scandal on ITV tells the Daily Mirror public figures will be questioned.
And publicist Max Clifford tells the Independent that he has been contacted by up to 15 celebrities fearful that they might be dragged into the inquiry.
There is speculation that Lord Heseltine, who was asked by ministers to undertake a review of economic growth, will call for stricter controls on foreign takeovers of UK companies.
The Guardian and the Daily Mail both think the former Conservative deputy prime minister will suggest that deals which threaten the national interest should be blocked.
The Mail says the move is expected to be resisted by senior Cabinet members.
And the Guardian points out the plan could be hampered by EU law.
The Sun and the Daily Mirror both report that the family of a suspected British terrorist who was killed in a CIA drone strike in Pakistan are planning to sue the British government.
His family, who deny he had terrorist links, accuse the government of involvement in his murder.
Drivers may have to pay higher road tax for motorway use, the Daily Mail says.
It is one of a number of newspapers that says the scheme is being considered by the Treasury.
The Daily Telegraph leads with research suggesting that schoolgirls as young as thirteen are being given contraception without their parents knowledge.
It points out that rules surrounding patient confidentiality have prevented nurses from speaking to parents.
And the back page of the Times contains a report that Chelsea players say there were abused by a referee in their game against Manchester United on Sunday.
The club has accused Mark Clattenburg of racially abusing John Obi Mikel.