Newspaper review: Silvio Berlusconi sentence in headlines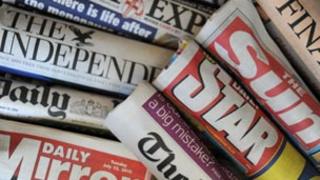 The prison sentence handed to former Italian Prime Minister Silvio Berlusconi for tax fraud is widely reported in Saturday's papers.
The four-year term was capped at one year under a law designed to prevent prison overcrowding. The Daily Mail asks if he will go to jail.
The Guardian and Daily Telegraph conclude that it is unlikely he will ever see the inside of a prison.
But the Times calls the sentence a humiliation for Mr Berlusconi.
Swing states
As the US Presidential election enters its final stages, the Financial Times thinks Mitt Romney will frame the election as a change versus a failed status quo.
The paper believes the race is tightening.
The Daily Telegraph reports that Mr Romney insists he can win the swing state of Winsconsin, even though he has not been there for 75 days.
And the Independent focuses on the frantic rush for votes in swing states.
Eco terrorists?
The murder of British oil executive Nicholas Mockford, who was shot dead in Brussels, is widely reported.
The Daily Mirror says experts believe the attack had the hallmarks of a professional hit.
The Daily Mail says it may have been the work of Eastern European hitmen.
Meanwhile, the Sun and the Daily Express both focus on the idea that Mr Mockford may have been targeted by eco terrorists, who hate his employer, the US firm, ExxonMobil.
Another planet?
The announcement by power firm EDF that it is raising gas and electricity bills by 10.8% is widely covered.
The Sun wonders whether the fuel suppliers live on the same planet as the rest of us.
The Daily Mail notes that Downing Street condemned the rise as "very disappointing".
Meanwhile, the Daily Express also expresses concern and urges the government to get on with its plans to secure a better deal for consumers.