Royal Marine and Army medic deaths 'not friendly fire'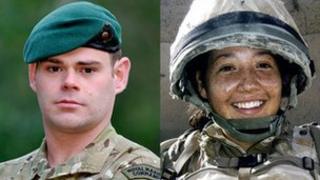 A Royal Marine and an Army medic who died in Afghanistan were not killed by British forces, an initial report by the Ministry of Defence says.
The preliminary review was looking into the deaths of Cpl David O'Connor, 27, of 40 Commando, and Cpl Channing Day, 25, of 3 Medical Regiment.
The pair were fatally injured in a gun battle on Wednesday while on patrol in Helmand province.
An Afghan man thought to be an off-duty policeman also died in the incident.
Cpl O'Connor, from Havant in Hampshire, and Cpl Day, from Comber in County Down, came under fire near the village of Char Kutsa, in the Nahr-e Saraj district.
The MoD says its analysis of the deaths is still continuing and "further investigation into the involvement or otherwise of the dead Afghan male is ongoing."
It said analysis is likely to take some time while forensic and other tests are carried out.
'Terrible tragedy'
In the meantime, the MoD says its preliminary investigation went against Afghan police claims the pair were shot by their own comrades.
The initial review at the scene, by Nato specialists and Afghan government representatives, concluded the shooting was not a "friendly fire" incident involving British forces.
Instead the shooting is thought to have been was caused by what the MoD suggests was "a third party or parties whose identities have yet to be established but who are not UK personnel".
Defence Secretary Philip Hammond said the deaths were "a terrible tragedy" and it was still unclear what exactly had happened.
"We know there were three people dead, one of them wearing civilian clothes," he said.
Asked if it was another so-called green on blue attack - where Afghans turn on their Isaf partners - Mr Hammond said: "There is a possibility that that is what has happened but it is not clear at this stage who the shooter actually was."
Parallel investigation
Afghan officials had said the British patrol had shot dead an off-duty Afghan policeman who was not in uniform but was carrying a weapon as he washed in a stream - mistaking him for an insurgent.
BBC defence correspondent Caroline Wyatt said it was not yet clear who fired first or why.
Cpl O'Connor was deployed to Afghanistan at the end of September as a section commander in the acting rank of corporal.
A Royal Military Police investigation is also being conducted alongside the MoD's inquiry.
Cpl Day, who joined the Army in 2005 and was deployed to Afghanistan on 2 October, was the third British female to have died while serving in Afghanistan since 2001.
In a statement released on behalf of Cpl Day's family, her sister Lauren said: "There no words to describe our deepest sadness, we are in a state of disbelief and would ask that we are given time and privacy to deal with this.
"Channing loved the Army - if there was one thing she knew growing up, it was that she wanted to be a soldier.
"She has done more in her 25 years than most women her age and we are so very proud of everything she has achieved."
A total of 435 British military personnel have been killed in Afghanistan since operations started in 2001.