UBS 'rogue' trader Kweku Adoboli faces two more counts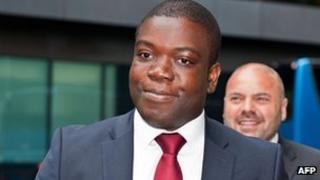 A City trader with Swiss bank UBS accused of a £1.4bn fraud was charged with two further counts as he took the witness stand for the first time.
Kweku Adoboli, 32, of Whitechapel, east London, broke down in tears four times at Southwark Crown Court.
He told the court his actions were not fraudulent, but for the benefit of UBS which he considered his "family".
He denies four charges of false accounting and two of fraud between October 2008 and September 2011.
Mr Adoboli said he had been asked to bring his "ability to understand the interaction of systems" to the Exchange Traded Funds (ETFs) desk when he joined as a junior trader in 2006. He was arrested on 15 September 2011.
'Two kids'
"It is not fraudulent, it is finding a way to do your job," Mr Adoboli said in response to questions from his defence lawyer.
The court heard that by 2007 Mr Adoboli, aged just 27, and a more senior trader, John Hughes, 25, were in charge of a portfolio of companies with assets of $50bn (£31bn).
"Our book was massive. A tiny mistake led to huge losses. We were these two kids trying to make it work," he said.
Fighting back tears, he said: "It's hard to find the words to describe the relationship I had with UBS as an organisation.
"It isn't about a bank. It was about what I thought was my family, considering how much [I] neglected my real friends and family.
"Every single bit of effort I put into that organisation was for the benefit of the bank, the people around me and the book I worked on.
"If I was not so proud to work for UBS, I would never put so much effort trying to convince them that we could achieve something at this bank."
He added: "To find yourself in Wandsworth Prison for nine months because all you did was work so hard for this bank...", before stopping as he broke down in tears.
He had also wiped away tears when his lawyer mentioned that his father had supported him in court since the beginning of his trial last month.
He again shed tears when talking about Mike Foster, who was in charge of the ETFs desk when Mr Adoboli joined.
"He wanted to make sure we could build something we could all be proud of," Mr Adoboli said.
The judge told Mr Adoboli he should not be embarrassed by such emotion, as it was useful for the jury to get a sense of his personality.
The trial continues.