Milk prices row: Farmers meet with Muller dairy owners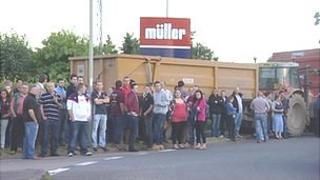 Farmers have met bosses of Muller UK to discuss the price the firm pays them for milk.
About 300 farmers staged a blockade of its factory in Market Drayton in Shropshire on Monday after talks about price rises broke down.
Muller, which owns Robert Wiseman dairies, agreed to increase the price to 29p per litre in September.
But the Farmers For Action campaign group said at least 33p a litre was needed to cover production costs alone.
Group chairman David Handley said: "We are producing milk at the moment for an unsustainable price."
"We did get some price increases from Muller Wiseman after the last lot of blockades but those haven't started coming into farmers' bank accounts yet," he said.
"Even with the last rise, we are still producing milk at two to three pence less than cost and we can not continue to do that."
Muller said it had no issues with peaceful protests but that blockades were putting the country's dairy industry at risk and "handed the impetus to competitors that do not use milk sourced from British farmers."
Mr Handley said farmers did not want to stage protests but felt they had no option.
Ahead of the meeting with Muller, in Droitwich Spa, Worcestershire, he said he hoped it would result in "positive talks" about milk prices being increased before the end of the year.