Newspaper review: Savile scandal still leads papers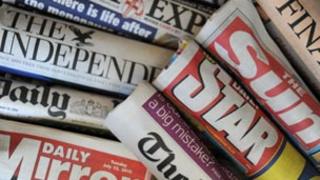 The Jimmy Savile scandal is the lead for several of the papers.
The Sun says police missed seven chances while he was still alive to arrest the entertainer.
According to the Independent, at least four police forces were aware of claims against him during his life.
The Daily Mirror says up to a dozen TV stars are to be arrested over sex attack claims connected to the Savile investigation - and some may be questioned within days.
Step change
Figures showing the economy is out of recession make the lead for the Daily Express - it has the headline "Britain roars back to life".
The paper describes growth of 1% over three months as a step change in Britain's economic fortunes.
The Financial Times leads on the loss of 1,400 jobs at car giant Ford in Southampton and Dagenham.
The paper says the news took some of the gloss off the end of the double-dip recession.
School days
The Daily Telegraph leads with remarks by Education Minister David Laws that schools are failing to encourage children to "reach for the stars".
It is a view that television presenter Fiona Phillips might agree with.
She was invited to her old school to give what organisers thought would be a speech full of fond reminiscences.
Instead, the Daily Mail reports, she bitterly accused the school, in Southampton, of crushing her aspirations.
Gender titles
Finally, a council could scrap the titles of Mr and Mrs from forms because they offend the transgender community.
According to the Daily Telegraph, the idea follows an investigation by Brighton and Hove City Council.
The council's deputy leader is quoted as saying: "Transgender people aren't necessarily male or female."
But a Conservative councillor tells the Daily Express: "It shows a complete lack of respect. How are they going to address letters properly?"