Pension funds could finance new homes, report suggests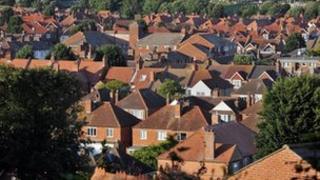 A possible 100,000 to 300,000 homes could be built in the UK every year without using any government money, a study has claimed.
The Future Homes Commission, set up by the Royal Institute of British Architects, said council pension funds could be used to reach the target.
Some of the assets in local government pension schemes could be pooled to provide a £10bn housing fund, it said.
Housing Minister Mark Prisk said the ideas would be considered carefully.
He described the proposals as innovative and interesting.
'No better time'
The report said a housing revolution that would lead to economic growth and create tens of thousands of jobs was possible without increasing government debt.
Commission chairman Sir John Banham said local councils should lead new development.
"There is no better time to tackle the UK housing crisis," he said.
"After a year-long national inquiry, the Future Homes Commission has concluded a housing revolution is entirely possible and will lead economic growth.
He added: "We need to increase massively the number of quality homes being built for many years to come, but also to develop communities which enhance the quality of life for both new residents and those living in existing communities nearby. All this has to, and can, happen without any additional government funding.
"We strongly believe that local government can become the leader of new development once again, by using their assets and powers to create the type of mature, sustainable, mixed tenure communities that Britain needs and that institutional and international investors want to invest in."
Borrowing ability
The Local Housing Development Fund would be used to build quality homes that could be sold in the future to replenish the pot.
The study said the UK needed a threefold increase in the number of new homes to help end the "blight" of poor housing.
Councils have responded positively to the report but said the government must also ease restrictions on the ability of local authorities to borrow for house building.
The president of the Royal Institute of British Architects , Angela Brady, said the commission's recommendations "provide an excellent starting point for delivering a radically improved housing market".