Afghanistan dead named as Channing Day and David O'Connor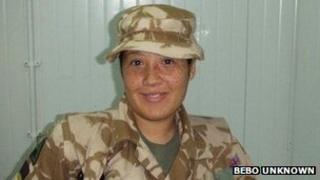 The two UK military personnel killed in Afghanistan on Wednesday were Cpl Channing Day and Cpl David O'Connor, the Ministry of Defence says.
Cpl Day, from 3 Medical Regiment, was 25 and came from Comber, County Down. She had been deployed to Afghanistan on 2 October.
She was the third UK female personnel to have died in Afghanistan since 2001.
Cpl O'Connor, from Hampshire, serving with 40 Commando, died in the same incident in the Nahr-e Saraj area.
An Afghan man is also reported to have died in the incident.
The Ministry of Defence said the two UK personnel killed on Wednesday had been killed after a gunfight while on a foot patrol in the area.
BBC defence correspondent Caroline Wyatt, in Kabul, said that an Afghan source reported the pair were killed by an Afghan ally, but other locals disputed this.
'Cause unclear'
If the source was correct the deaths would be among a number of "green on blue" attacks on coalition troops this year.
The MoD said the UK patrol was "not working with any Afghan partners at the time".
"At this stage we do not know what initiated the exchange of gunfire and an investigation is ongoing," a spokesperson said.
A total of 435 British military personnel have been killed in Afghanistan since operations started in 2001.
The first British woman to die in action was Cpl Sarah Bryant, 26, from Cumbria, in June 2008. She was one of four soldiers to be killed when her Snatch Land Rover was caught in an explosion in the Lashkar Gah area.
In April last year, Capt Lisa Jade Head, from 11 Explosive Ordnance Disposal Regiment, Royal Logistic Corps died in a UK hospital from injuries suffered in an explosion while clearing roadside bombs in the Nahr-e Saraj area. The 29-year-old was from Huddersfield.