Jimmy Savile: 'Terrible damage' to BBC - Trust chairman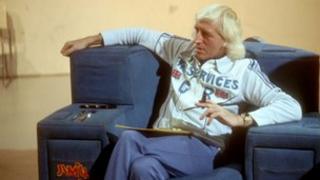 The sex abuse by BBC presenter Jimmy Savile has done "terrible damage" to the corporation's reputation, BBC Trust chairman Lord Patten has said.
He told BBC Radio 4's World At One programme the independent inquiries into the scandal were the best way to get to the bottom of what happened.
Lord Patten added new director general George Entwistle had faced a "baptism of fire" over the "tsunami of filth".
He also denied other jobs kept him "too busy" to deal with the recriminations.
Lord Patten told the World At One that the aim of the various internal inquiries were to help Savile's victims and restore the reputation of the BBC, where he chairs its governing body.
"We have to deal with the terrible damage to the reputation of the BBC, which has hitherto been a national institution which people have trusted. The way of getting at this issue is by pursuing the inquiries which have been set up," he said.
He went on to defend Mr Entwistle, who faced questions over his leadership following his appearance before MPs on the Commons culture committee on Tuesday.
"It was a very, very difficult baptism of fire for the new director general of the BBC," said Mr Patten.
"This great tsunami of filth broke over him 11 days into the job."
'Enough time'
Lord Patten, who is chancellor of Oxford University, dismissed claims he did not devote enough time to the BBC.
Daily Mail columnist Stephen Glover criticised Lord Patten's handling of the Savile affair and wrote: "It is ludicrous to suppose that a man who is head of Oxford University, and does work for five companies, can also have the time to be an assiduous chairman of the BBC."
But Lord Patten responded: "I am actually doing a good deal less than when I organised the Pope's visit (in 2010) which wasn't thought to be a terrible failure.
"Most of the things which are cited by the Daily Mail are jobs which only take, in some cases, two or three days a year," he added.
He said: "I have enough time to devote to chairman of the trust."
He went on to address complaints in some newspapers that the BBC took too long to correct Newsnight editor Peter Rippon's blog after it became aware that it was inaccurate.
Lord Patten said: "I (first) knew last Sunday and insisted that we should put the blog right as soon as possible.
"I'm sure the director general and his colleagues would have wanted to change it as rapidly as possible themselves," he added.
He pointed out that nobody had yet heard Mr Rippon's version of events.
On Wednesday BBC Radio 5 Live present Victoria Derbyshire tweeted: "If BBC journos/Eds make a poor editorial call, (& most of us hve at some point), will they be treated by mgemnt like Peter Rippon has been?"
Lord Patten replied: "We get hammered on both sides of the street. You get hammered if you don't criticise someone's editorial decision and you get hammered if you do."
The Panorama programme, Jimmy Savile - What the BBC Knew, is available on the BBC iPlayer.