Jimmy Savile: Number of victims reaches 300, police say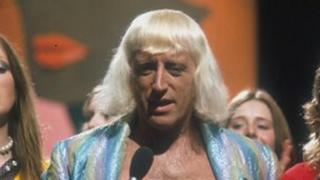 The number of possible sexual abuse victims of Jimmy Savile has risen to 300, Scotland Yard has confirmed.
It is thought the TV presenter and DJ, who died last year aged 84, may have abused scores of young girls and some boys over a 40-year period.
Police have so far spoken to 130 victims and officers have recorded 114 allegations.
Savile's great-niece Caroline Robinson has accused him of sexually abusing her when she was 12.
Met Police Commander Peter Spindler described the police inquiry as a "watershed" moment in the investigation of child abuse. He praised the media for exposing Savile "for what he was."
He said Savile was "undoubtedly" one of the most prolific sex offenders of recent history, and the weight of evidence from victims against the late DJ was overwhelming.
"We have to believe what they are saying because they are all saying the same thing independently," Cdr Spindler said.
Labour leader Ed Miliband has reiterated calls for an independent inquiry into the affair.
However, Andrew Lansley, the Leader of the Commons, wants the police investigation and independent reviews by the BBC and NHS to be allowed to run their course.
Arrest strategy
The police inquiry, Operation Yewtree, has identified 300 victims - up from 200 last week - and is looking at 400 lines of inquiry. All but two of the victims are female.
Police said they had spent nine hours interviewing Karin Ward, one of the first victims to speak publicly.
Ms Ward, who was a pupil at Duncroft approved school for girls in Surrey, alleged that she was sexually abused by Savile during her time there.
She was interviewed for the BBC's Newsnight programme on 14 November last year, but the interview was only shown for the first time on Panorama this week as the Newsnight investigation was shelved.
Police were looking at three categories of crime: Savile committing abuse on his own; Savile with others; and other people committing abuse. The type of crime ranged from inappropriate touching to rape, Cdr Spindler said.
A number of living people were under investigation but exact figures have yet to emerge.
'High standing'
Mr Spindler said a retired officer had been in touch to say he had investigated Savile in the 1980s while based in west London but he had not had the evidence to proceed.
He said he believed the allegation was of an indecent assault on BBC premises but officers have still not found the original file.
Sources close to Scotland Yard's investigation said they were also looking at "figures of high standing" who might have helped Savile.
Cdr Spindler said there was no evidence of a paedophile ring involving Savile. He described the offenders as "opportunist individuals".
But it is thought investigations are looking at those who may have assisted Savile, helped organise abuse, cover it up or taken part in assaults themselves.
Savile was a household name in the 1970s and 1980s as the host of popular Saturday evening programme Jim'll Fix It and he also presented Top of The Pops and a number of other programmes.
'Mirror image'
A great-niece, Caroline Robinson, has told BBC Radio 5 Live she was abused by him when she was 12.
Mrs Robinson, who is now 49, said: "When I was reading about the victims in the paper it was like reading a mirror image of what I went through."
She added: "When I was 12... he asked me to sit on his knee and he said 'what can Jimmy do for you?' and I said 'Can I see the Bay City Rollers?' who were my favourite group at the time."
Mrs Robinson said Savile got sexually excited as she sat on his knee and put his hands in her underwear.
She said she ended up running upstairs in tears but she said she never told her parents what had happened.
The Panorama programme, Jimmy Savile - What the BBC Knew, can be seen again on the BBC iPlayer.