Newspaper review: Mixed views on economic news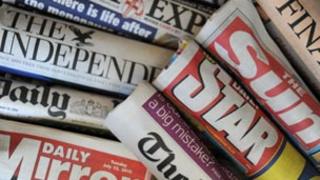 There is not much agreement on the main story of the day, but it is the economy for the Guardian.
It says David Cameron is ready to claim the worst of the recession is over when latest growth figures are published.
But the Guardian adds plans for a measured response were blown off course by the leak inquiry into Mr Cameron's comment at prime minister's questions that good economic news was on the way.
The Sun thinks the news may mark a turning point in Britain's fortunes.
Prisoner votes
The Independent says ministers have been banned from talking about the green shoots of recovery because millions of people still feel squeezed.
There is a clue as to why in the Times.
It has commissioned analysis suggesting the banking collapse and double-dip recession have left us more than £1,800 a year worse off on average.
In the Sun's opinion, the row about votes for prisoners is shaping into a decisive confrontation over who runs Britain.
The Sun praises David Cameron's stated opposition to the ruling by the European Court of Human Rights.
The Daily Telegraph declares in its editorial column: "Don't let prisoners vote, whatever the cost."
Censor claus
The Daily Mail says there is to be a major review of what is known as the Liverpool Care Pathway, a system for treating patients in their final days.
It is, in the Mail's words, "a way of hastening the deaths of terminally ill patients".
Finally, a Canadian publisher has been caught up in a row involving Father Christmas and smoking.
According to the Daily Telegraph, Pamela McColl removed a reference to Santa's pipe from the famous poem A Visit from St Nicholas, which begins: "Twas the night before Christmas".
She has been accused of censorship by campaigners in the US.
But she is unrepentant, declaring: "I don't think Santa should be smoking in the 21st century."