Police pay board to be scrapped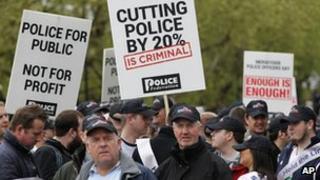 The government says it wants to scrap the Police Negotiating Board and replace it with a new body to set pay.
Police pay is set by government - but only after the PNB has sought consensus and, if necessary, arbitrated in a disagreement.
Police minister Damian Green said a new body would be fair to both officers and the public purse.
The Police Federation reacted angrily to the decision to abolish the long-standing board.
It said that the consultation on a proposed new body was being rushed, leaving very little time for meaningful negotiation over the PNB's replacement.
The Police Negotiating Board is a long-standing body that deals with all pay negotiations, including decisions taken by the devolved administrations in Scotland and Northern Ireland.
It holds talks between officers' representatives, police chiefs, police authorities and ministers. Incoming Police and Crime Commissioners will soon replace police authorities in England and Wales.
In a statement to Parliament, Theresa May confirmed the long-expected decision that the government wants to scrap the PNB, following a recommendation in the Winsor Review of police pay and conditions earlier this year.
The Winsor Review recommended a new independent pay review body for England and Wales that would operate in a similar way to the bodies that set pay in other public services. It's not clear whether the proposed scrapping of the PNB would apply to only England and Wales because the Home Office consultation paper says that the geographic scope is UK wide.
Policing minister Damian Green said: "Police officers play a vital role in this country, fighting crime and keeping us safe. It is right they are properly rewarded.
"An independent pay review body will ensure recommendations on pay which are fair for both the public and the police. It will speed up the process and provide a less adversarial, more reasoned approach than has been taken previously.
"We want to hear from everyone involved in policing and beyond to find out how we can create an efficient and effective pay review body that properly rewards police officers for years to come."
The consultation on the new body runs until 21 December, a little over a month after the election of the first police and crime commissioners in England and Wales.
But Paul McKeever, chairman of the Police Federation, which represents rank-and-file officers, said: "We are extremely angry and disappointed by today's announcement by the home secretary. The existing negotiating machinery, together with independent arbitration, was set to protect police officers who hold a unique position in society.
"This announcement flies in the face of the government's own policy on policing, to decentralise decision making and thus provide greater local accountability. On the one hand, the government says they have respect for the role police play in society and yet their actions contradict this at every turn."