Giving Jimmy Savile victims their voice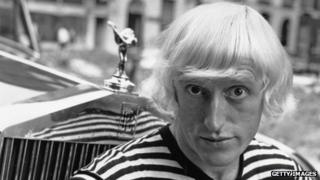 One begins to lose track of how many inquiries and investigations the Jimmy Savile scandal has spawned. Amid the soul-searching that follows such revelations, there are always demands that lessons be learned so nothing like it "can ever happen again".
That, indeed, was the line from the prime minister on Wednesday when he called for a rethink in the way sex abuse cases are dealt with.
"The government will do everything it can do, other institutions must do what they can do, to make sure that we learn the lesson of this and it can never happen again."
His concern centred on the cases of four women who, three years ago, found the courage to tell police how Jimmy Savile had sexually abused them in the 1970s.
Two had been children at the Duncroft Approved School in Surrey, another was a young teenage patient at Stoke Mandeville hospital. The fourth was an adult who said Savile had indecently assaulted her in Sussex.
Officers in Surrey collated the cases and sent a file to prosecutors - Jimmy Savile was still alive. But because the victims felt unable to talk about their experiences in court, the matter was dropped.
David Cameron has now demanded prosecutors look back at exactly what happened to the victims and why their stories ended up apparently forgotten in a file.
"The director of public prosecutions specifically is going to consider what more can be done to alert relevant authorities where there are concerns that a prosecution is not taken forward," he said.
Today another of Savile's victims, raped as a young girl in 1970, has revealed how she also summoned up the nerve to tell police what had happened. But nothing ever came of it.
"They were not very interested really," the woman (who asked to remain anonymous) told the BBC. "I didn't feel I was really believed. It has sort of haunted me quite literally. It has depressed me. It has made me feel disgusted with myself."
Director of Public Prosecutions Kier Starmer has confirmed he is ready to look at how his organisation can ensure victims don't get forgotten.
In a statement he said: "I have said to the attorney general that I would like to discuss with him whether the CPS should adopt a policy of referring cases to other relevant agencies, such as social services, where an allegation is made but cannot be proceeded with for evidential reasons."
Predatory sex offender
Systems already exist to ensure allegations made to police are passed on to other agencies. After the Soham tragedy a decade ago, there is a duty on authorities to ensure incidents in England and Wales which don't result in a prosecution are kept on file and that social services are alerted.
But the CPS wants to look at any measures which might ensure that a predatory sex offender cannot commit hundreds of crimes against hundreds of people over decades across the country and somehow slip through the net.
Part of that process is giving victims of abuse the confidence to tell their stories. The Savile scandal has seen large numbers of victims come forward, many for the very first time.
One helpline has reported thousands of calls and Scotland Yard's own inquiry into Savile has now identified over 200 potential victims - among them the woman who was raped by Jimmy Savile in 1970.
"It has only been in the past few weeks that I have really spoken about it. In fact, it is only then that my husband actually knows exactly what happened," she said.
If there is one good thing to come out of this ghastly affair it may be that victims of the most vile and painful abuse find the courage to speak out.
Anyone with information into these allegations - or who needs support on the issues raised in this article - can call the NSPCC on 0808 800 5000 or email help@nspcc.org.uk, or call their local police station by dialling 101.