Terror trial: 'Suicide bombers ready to take on England'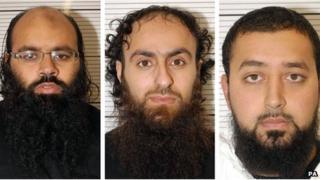 A man accused of plotting a huge terror attack described himself and three others as "suicide bombers driving around ready to take on England", a court has been told.
Irfan Khalid, 27, was covertly recorded by police in September as he drove through Birmingham with two men also on trial and a fourth man.
They were also recorded discussing bomb making, prosecutors said.
Mr Khalid, Irfan Naseer, 31, and Ashik Ali, 27, deny the charges.
The trio are accused of planning to set off a series of suicide bombs in an attack which prosecutors said would have dwarfed the 7 July 2005 bombings in London.
Mr Naseer denies five counts, Mr Khalid four and Mr Ali three, all between Christmas Day 2010 and 19 September 2011.
On Wednesday in Woolwich Crown Court, the jury was told that as the men were driving in Birmingham with Mr Ali's brother Bahadar, they pretended to be Formula One commentators covering a race, talking about overtaking drivers including English former champions Jensen Button and Nigel Mansell.
In the middle of the conversation, Mr Khalid said: "It's the four suicide bombers driving around ready to take on England. Oh my God... take them out."
Nail polish and ice packs
Brian Altman QC, prosecuting, told the jury: "There you have, in the middle of the conversation, Khalid, clearly in his mind, it's 'the four suicide bombers'."
Other recordings in the car and at a Birmingham flat demonstrate that the men embarked on "clear terror planning" on September 16 last year, prosecutors said.
"In the early hours of September 16 the defendants embarked on detailed discussions about how to make an IED [improvised explosive device] and about sourcing the relevant chemicals to make an explosive mixture," Mr Altman said.
"Naseer can be heard teaching Ashik Ali about bomb making. Their discussion ranged from ammonium nitrate to detonators. They discussed chemical formulae, quantities of chemicals, syringes to be used to create a detonator, glue and drinking straws."
He said the pair also talked about "items such as nail polish remover, powder from match heads, electrical wiring, the use of batteries, sulphuric acid, hydrogen peroxide, ice packs and alarm clocks."
They also spoke about fertiliser and compared its ammonium nitrate content with sports injury cold packs.
The court has previously heard that they posed as charity collectors, gathering £12,100 in donations to fund the attack, but lost £9,149 of it after engaging in foreign currency trading.
Loan attempts
Further details of their alleged attempts to gather funds were revealed on Wednesday.
The men and an accomplice applied for loans worth a total of £33,000 from two branches of Barclays bank in Birmingham.
Mr Ali tried to get £15,000 from one branch by claiming he was starting a double-glazing business, the court was told.
Mr Altman said: "Ali was overheard by a surveillance officer who was inside the bank claiming dishonestly that he was registering a double glazing company called A Ali, which he told the personal advisor had started trading on the previous Friday."
Rahim Ahmed, the associate who lost the group's money in the currency trading, tried to get £20,000 from a payday loan company in September last year, but was rejected because he did not meet lending criteria, the court heard.
The prosecution said he then asked Mr Naseer to reimburse him a £69.50 administration fee he had paid just to be assessed.
Training camps
Mr Naseer and Mr Khalid are accused of travelling to Pakistan for training in terrorism, and it is alleged that Mr Naseer also helped others to travel to the country for the same purpose.
The court was told that members of the Muslim community put pressure on the three men after finding out they were sending people to Pakistan for terror training.
Three out of four men sent to Pakistan came home early after their families and a community leader intervened.
The court heard that Mr Naseer devised a cover story about them studying at a religious school recommended by him.
"Of course, Naseer did not go to Pakistan to study," Mr Altman said.
"He went to train in aspects of terror along with Khalid. Here he gives a story which covers the travellers but also himself."
The court heard the four younger men were told to say that they had not liked the schools - where students were beaten, the food was bad and buildings invested by rats - and came home for that reason.
The trial continues.