Jimmy Savile scandal: Media reaction to BBC approach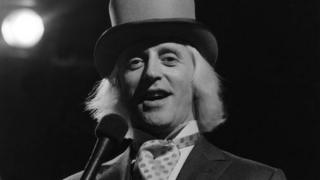 BBC director general George Entwistle has appeared in front of MPs to explain the BBC's handling of sex abuse claims against former BBC presenter and DJ, the late Jimmy Savile.
He also faced questions about why a Newsnight probe into the scandal was axed and why the BBC's account of what happened has since been found to be inaccurate.
So what do commentators from across the UK and the world think of Mr Entwistle's explanations, and what impact will the crisis have on the BBC and its wider governance?
UK reaction
"The BBC, with its quasi-familial role in British life, did not actively collude in the crimes of Sir Jimmy Savile. Nor, in all likelihood, did it engineer a cover-up of his predatory paedophilia. But sins of omission can be almost as reprehensible as those of commission, and the BBC appears guilty, at the least, of wilful ignorance. The corporation's senior managers seem, like the three wise monkeys, to have chosen to see no evil, hear no evil and speak no evil... the Savile scandal is a reminder of the lethal inertia at the heart of public life."
Mary Riddell, The Daily Telegraph
"How many other institutions would allow junior staff to carry out a forensic examination of an internal scandal and broadcast it to the world? How many others would allow employees to expose a manager who made a self-serving decision?... At the BBC, journalists on Newsnight can speak out against cowardly editors, and journalists on Panorama can examine a corporate scandal without fear of reprisals. In doing so they help regain viewers' trust and strengthen the institution."
"We need to know who [at the BBC] said what to whom about Savile over the years, what was done and what was not, and why... Great organisations make great mistakes and good people can allow bad things to take place. However, the BBC's handling of this scandal has raised more questions than it has answered. It is now for the two inquiries to address them. This will require the "forensic but also soul-searching" review of the BBC that Mr Entwistle has spoken of but, so far at least, not led."
"Only by further damaging its own reputation could the BBC even begin the process of mending it. Last night's [BBC Panorama] film was grim and depressing - but it was also very difficult to think of any other organisation, media or otherwise, that would have exposed itself to such a painful self-laceration. It's not over by a long stretch but Panorama may have started to restore some trust."
Tom Sutcliffe, The Independent
"The Jimmy Savile witch-hunt sets us on a path to paranoia: The recent disproportionate treatment of phone hacking is threatening the media... the same may now apply after Savile. Those running big organisations, in the public and private sectors, face a lethal pincer movement. On the one side is a rising tide of risk aversion, seeping into every factory, office and profession, stifling enterprise, "reassessing" risk, clogging decision. On the other is a fear of what happens should this process fail... Honest mistakes do not exist, being replaced by only the most serious and probably criminal negligence, fit only for the pillory, the stocks or the gallows."
"On Monday night, the Beeb devoted an entire edition of Panorama to explaining how fantastically useless the BBC really was in its handling of the horrible Jimmy Savile business... It should never have been a crisis of this magnitude. Even if the senior bosses were involved — which I would bet they were — it still needn't have resulted in this dog's breakfast. Far, far worse than the decision not to run the programme has been the subsequent cover-up. And the suspicion left with the public that is it can't trust Auntie any more."
Rod Liddle, former BBC editor, The Sun
"Are licence-fee payers seriously expected to have confidence that inquiries conducted on the BBC's own terms, and held behind closed doors, will reveal the full story? All that is clear so far is that the corporation, from the top down, betrayed many scores of vulnerable children - and then sought to manipulate the facts. Mr Entwistle's lamentably evasive performance yesterday proves that only a full, public and independent inquiry can be trusted to uncover the truth."
World reaction
"One of the most difficult challenges for news organizations is reporting on what goes on inside their own corporate walls. Two global media companies, the BBC and The New York Times, are dealing with that challenge right now... The Times might start by publishing an in-depth interview with Mr Thompson exploring what exactly he knew, and when, about what happened at the BBC. What are the implications of these problems for him as incoming Times chief executive? What are the implications for the Times Company to have its new CEO - who needs to deal with many tough business challenges here - arriving with so much unwanted baggage?"
Margaret Sullivan, The New York Times
"The scandal has engulfed BBC at a time when it remains under pressure from its critics - which include much of the conservative media - who have queried whether it should still be funded via an annual licence fee paid by the public. The BBC is already cutting its workforce and output after Cameron's government imposed deep spending cuts and any loss of public trust could prove an issue in future discussions over funding and the licence fee."
"The scandal has also besmeared the reputation of another national treasure — Savile's employer, the British Broadcasting Corporation... While Britain has certainly become accustomed to media scandals over recent years, the BBC has often found itself out of the fray of accusations of cover-ups and unethical behavior. Yet the Savile scandal — and the alleged cover-up by the BBC — seems to have touched a nerve in the public in a way that the phone-hacking scandal did not."
"This isn't just a sinister chapter in the history of show business. Savile had a flat at Stoke Mandeville hospital and he worked as a volunteer porter at Leeds General hospital for years. He was a regular visitor to children's homes. He had the run of Broadmoor, a high security psychiatric hospital... There are other questions that only a full and independent inquiry can answer. What does Savile tell us about the country where he flourished for so long? What does he tell us about those responsible for the integrity of its governing institutions? Just what exactly does Jimmy Savile mean?"
Twitter reaction
Comedy writer Pete Sinclair: "@twitsplatt I agree that the BBC has handled it very badly, but I honestly think it's part of a much wider problem. Charity = good person..."
Brian Moore, Daily Mail journalist: "The Savile affair is supposed to be about child abuse not the BBC- all institutions where he worked should be subject to same questions"
Campaign group, Hacked Off: "Why the BBC & #Savile can't possibly be a cause to reopen #Leveson: http://t.co/Lghf6PrH #HackedOff"
Martin Shovel, cartoonist: "My cartoon - the BBC's Jimmy Savile cover-up - there's no smoke without cigar! pic.twitter.com/26TOhC0n"
Ben Bradshaw, Labour MP on Commons Culture, Media and Sport Select Committee: "This spat between the Culture Sec & BBC Chairman over #savile is a silly & unnecessary distraction. Both need to focus on the job at hand."
Miriam O'Reilly, former BBC One presenter: "For the sake of the women and trust in the BBC, George Entwistle, Chris Patten and Peter Rippon should stand down #savile"