Prison Reform Trust warning over youth custody deaths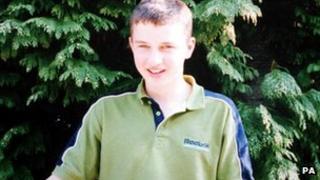 "Systemic failures" in the prison system are contributing to some deaths of young people in custody, a report by campaigners has said.
Two-hundred people aged under 25 have died in custody in the past 10 years in England and Wales, the Prison Reform Trust and the charity Inquest said.
They are calling for an urgent review into deaths of young people in prisons and young offender institutions.
The Ministry of Justice said it was determined to reduce deaths in custody.
Nine children and 191 other young people aged under 25 have died in prisons or secure training centres since March 2002, the Fatally Flawed report said.
'Most disadvantaged'
The report, which looked in particular at the experiences of 98 children and young people who died in custody, found they were "some of the most disadvantaged in society" and had experienced problems with mental health, self harm, alcohol and drugs.
In many cases there were communication failures between community agencies and prisons while, in others, they were placed in prisons with unsafe environments and cells, it said.
It added that poor medical care and limited access to therapeutic services in prison also caused problems and some children and young people had been exposed to bullying, segregation or restraint.
It said the analysis revealed "systemic failings that have contributed to some of the deaths of young people".
"Often overlooked and neglected in a regime that does not differentiate between young adults and adults, there is little institutional understanding of, or attention to, their specific needs," it said.
Juliet Lyon, director of campaign group the Prison Reform Trust, said many of those who died "could have been helped earlier" through education, health and welfare services.
"After 200 deaths in 10 years, it is time to learn that locking up our most vulnerable children and young people in our bleakest institutions is a process that is fatally flawed," she said.
Deborah Coles, co-director of Inquest, a charity which advises on contentious deaths and their investigation, said: "This report must prompt an independent review as a matter of urgency as there is a pressing need to learn from the failures that cost these young people their lives."
Former chief inspector of prisons Lord Ramsbotham said a lack of action over the past decade is a "devastating indictment of bad practice".
The criminal justice system and community services "have demonstrably let young people down, for all the wrong reasons, for far too long", he wrote in the foreword to the report.
'Wholly insufficient'
The report picked out the case of 16-year-old Joseph Scholes, who died in his cell at Stoke Heath Young Offender Institution on 24 March 2002.
Yvonne Bailey, Joseph's mother, who has long called for a public inquiry, said she read the report "with sorrow".
"It is now over a decade since my son Joseph died in fear and distress, hanging from the window bars of his squalid cell in a children's prison," she said.
"The deaths of a further nine young boys are devastating evidence that the changes implemented were yet again wholly insufficient to fulfil the duty on the state to protect the right to life of the children it imprisons.
"I am saddened and perplexed by the continuing and repeated refusal of successive governments to properly investigate, through a public inquiry, the circumstances that have led to the deaths of child prisoners."
An MoJ spokeswoman described every death in custody as a tragedy and said the safety of young people in custody was "our highest priority".
"The rate of self-inflicted deaths has fallen by approximately 40% since 2004, but we are committed to further reducing the numbers of deaths in custody," the spokeswoman said.