Newspaper review: DG's Savile grilling fails to impress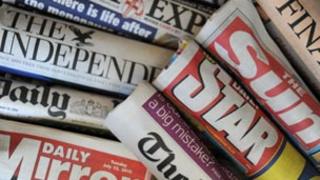 The headlines do not make good reading for BBC director general George Entwistle after his grilling by MPs investigating the Jimmy Savile scandal.
The Daily Telegraph declares it is hard to see how he will ever command the confidence of his staff or the public.
The Independent says he appeared ill-informed, under-prepared and out of his depth.
In the Times, he is described as all three wise monkeys rolled into one - seeing, hearing and speaking no evil.
Struggling to survive
The Financial Times is more supportive of Mr Entwistle but it says his performance did little to counter questions about his leadership qualities.
The Guardian found him "mediocre". "Woeful, hesitant and dithering" is the Daily Mirror's verdict.
The Sun says he is struggling to survive.
The Daily Mail believes only a full, public and independent inquiry can be trusted to uncover the truth.
Tougher exams
The Mail's main headline warns that Britain faces a "never-ending mortgage drought".
It reports that the Financial Services Authority will unveil tougher rules for lending on Thursday.
The Daily Telegraph says maths A-Levels are about to be toughened up by leading Cambridge mathematicians.
The paper says it is the first time this has happened since the government announced it would allow academics to re-write syllabuses and exam papers.
Tattoo ban
Daniel Craig is caught mopping his brow at the premiere of the latest James Bond film after apparently succumbing to what one paper calls "man-flu".
The Daily Mail says the Bond actor is "the spy who came in with a cold".
Finally, the Sun says HMV music shops have banned long hair and garish tattoos for staff.
The new "appearance policy" demands no flip-flops or "extreme body art". The Sun's headline remarks "Tatt's not very rock and roll".