Judges hear claims UK intelligence used for drone strikes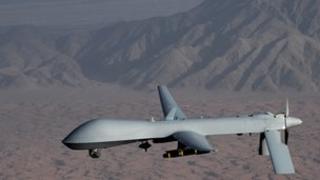 UK officials alleged to be providing intelligence for US drone strikes could be "encouraging or assisting murder", the High Court has been told.
Judges are deciding whether there should be a full judicial review into the legality of any UK co-operation with the Central Intelligence Agency.
The case was brought by a Pakistani man whose father was killed in a suspected CIA drone strike in northern Pakistan.
Government lawyers say English courts cannot rule on the case.
Lawyers for 27-year-old Noor Khan say his father Malik Daud was part of a council of elders who were holding a meeting in the tribal areas of North Waziristan when a drone missile hit the group.
The court was told that up to 50 people were killed and many others were wounded in the strike, in March last year.
Targeted killings
Lawyer Martin Chamberlain, appearing for Mr Khan, said the frequency of drone attacks was increasing and his client feared "for his life and the lives of his family and community".
He said a Sunday Times article in July 2010 reported that British spy agencies were pinpointing the hiding places of al-Qaeda and Taliban chiefs for controversial "targeted killings" by drones.
The UK government has neither confirmed nor denied any such intelligence co-operation.
Mr Chamberlain told the court that Mr Khan was entitled to a declaration that any UK intelligence officers who passed on information to the Americans might be "encouraging or assisting murder".
He said the officers were UK nationals and could be criminally liable under English domestic law, or their actions might constitute war crimes or crimes against humanity.
'Acutely controversial'
Mr Chamberlain said: "We say the offence of murder is triable in England where the defendant is a subject of Her Majesty even where the killing takes place abroad."
Lord Justice Moses - one of the judges presiding over the two-day hearing in London - referred to a "very moving passage" in Mr Khan's evidence of what life was like living with the threat of missiles "falling from the sky without warning".
Mr Khan's legal team wants to establish what official UK policy or guidance is with regard to assisting the US in such cases.
But lawyers for the government argue that the case raises issues relating to sovereign foreign states that cannot be determined by the English courts.
They also say that any adjudication on Mr Khan's claim would have a "significant impact" on the UK's relations with the US and Pakistan, in what they describe as an "acutely controversial, sensitive and important" context.