Phone hacking: Two held over payments inquiry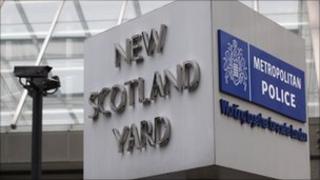 A serving member of the armed forces and a former Ministry of Defence employee have been arrested by police investigating alleged inappropriate payments to police or public officials.
The member of the armed forces, a 31-year-old man, and the ex-MoD employee, a 34-year-old woman, were arrested in Rotherham, South Yorkshire, as part of the Met Police's Operation Elveden.
The pair were arrested at the woman's home address at about 06:00 BST.
They are at a local police station.
The woman is being interviewed by police on suspicion of misconduct in a public office and suspected corruption. The man is being held on suspicion of aiding and abetting misconduct in a public office and suspected money laundering offences.
Operation Elveden is investigating allegations of inappropriate payments to police and public officials and is related to the Met Police's phone-hacking inquiry, Operation Weeting.
In total, 52 people have been arrested as part of Operation Elveden, police said.
Scotland Yard said the arrests were the result of information provided by News Corporation's management standards committee, which was set up in the wake of the phone-hacking scandal.