Newspaper review: 'Serious questions' for BBC chief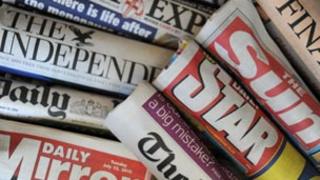 Tuesday's newspapers look ahead to BBC director general George Entwistle's appearance before MPs over the handling of sex abuse claims against Jimmy Savile.
The opinion writers are united in declaring that Mr Entwistle has serious questions to answer about the scandal.
The Times warns that "he will have to get on top of events that have so far got on top of him".
It describes the BBC's response since ITV revealed the sex abuse allegations as "tardy and confused".
'Perfect storm'
The Guardian says Mr Entwistle must persuade MPs he is determined to put the truth about the shelving of a Newsnight investigation into the public domain.
The Independent says he will be fighting for his career when MPs demand to know how much he knew about the dropping of the probe.
Both the Daily Telegraph and the Daily Mail say a series of emails allegedly suggesting senior executives were involved in the decision to drop the Newsnight investigation were blocked from featuring on Monday night's Panorama special by BBC lawyers.
In the Telegraph, former BBC correspondent Martin Bell speaks of the DG sailing into a "perfect storm" at Westminster. He says the crisis undermines the trust that should lie at the heart of the corporation's relationship with its public.
The Sun reports a Conservative MP's comment that a cover up would be an abuse of the licence fee. The Mail says the BBC's "moral ethos" is being called into question.
In the Daily Mirror's words, "the BBC tried to recover lost ground" with the Panorama programme but it may be seen as "too little, too late".
'White House calling?'
Meanwhile, as Americans prepare to go to the polls in two weeks, the Times says Mitt Romney's aides are jockeying for position in readiness for a possible move into the White House.
The paper points out that President Barack Obama and his Republican challenger were neck and neck as they embarked on the last of their televised debates.
An excited Mr Romney is pictured on the newspaper's front page.
His grandson holds up a mobile phone, while the headline reads: "Is it the White House calling Grandpa?"