Four Savile abuse cases investigated by CPS in 2009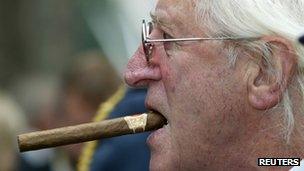 Four potential cases of sexual abuse by Jimmy Savile were investigated by Surrey Police in 2009, rather than one, the Crown Prosecution Service has said.
However, the CPS said a prosecution was not held because "none of the alleged victims would support a prosecution". This could have involved giving evidence in court.
The original case related to an alleged sexual assault at Duncroft approved school in Middlesex in the late 1970s.
A wider police inquiry is under way.
The Met Police announced last week that it had identified 200 potential victims of the BBC presenter and other people who are still living.
BBC programme Newsnight contacted the CPS in November last year about the original case, to be told prosecution had been dropped due to lack of evidence.
The second case was an alleged indecent assault on a girl under the age of 16 at Stoke Mandeville hospital in or around 1973.
The third was an alleged incitement of a girl under 16 to engage in a sexual act at Duncroft in the late 1970s.
The fourth was an alleged indecent assault on an adult in Sussex in 1970.
All four were part of a single file submitted by Surrey Police to the CPS in 2009.
A CPS spokeswoman said: "The evidence showed that none of the alleged victims would support a prosecution.
"In these circumstances the CPS concluded that it was not possible to bring a prosecution in this matter.
"Prosecutors have to satisfy themselves that there is sufficient evidence for a realistic prospect of conviction in order to be able to take a case to court and it was concluded that no further action could be taken in this case."
A six-week BBC Newsnight investigation into claims that Savile abused youngsters - which also took in whether there were institutional failings by police or the Crown Prosecution Service - was dropped in December 2011.
Newsnight editor Peter Rippon, who was responsible for dropping the report, stepped aside from his role on Monday.
The BBC said it was for the duration of the inquiry into Newsnight's handling of the planned report.
ITV aired its own investigation into Savile earlier this month. In it several women alleged he sexually abused them when they were teenagers.