Police and crime commissioners: Questions remain over vote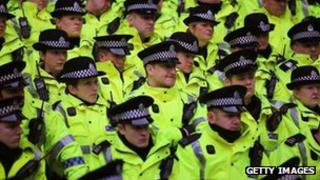 It's been billed as the most radical change to police governance in decades.
For the first time, people in England and Wales, outside London, will next month be able to vote for a police and crime commissioner.
These directly elected individuals will be able to set the strategic priorities for 41 police forces, agree budgets and hire and fire chief constables.
They will replace existing police authorities - which had been regarded by some supporters of this change as unresponsive to local communities.
But is there any sign voters want this big change? On what could be a gloomy, wet day in mid-November, will large enough numbers actually vote to give these new commissioners the legitimacy they need?
'Lack of leadership'
A few of the traders and shoppers in Hatfield Market, in Hertfordshire, had heard the elections were happening. But there was little interest in taking part.
"It'll make no difference to me whatsoever," said one stall holder. "I've never voted for anyone, and I'm not going to vote for a commissioner".
Another customer complained she hadn't seen any of the candidates actually campaigning.
When the idea of a directly elected commissioner was explained, a few people thought it sounded positive. But nobody seemed to know who was standing or what the key campaign issues were.
That's worrying for supporters of the change, with the elections less than four weeks away. Government sources have expressed concern there's a lack of political leadership from the top. They say the prime minister should be pushing the policy harder.
Former head of Scotland Yard Sir Ian Blair has urged people not to vote, arguing the new police areas will be too big for any individual to represent properly - a remark Justice Secretary Chris Grayling dismissed as "a very silly thing to say".
But some would-be independent candidates say it's impossible, with limited resources, to campaign effectively across areas that contain more than one million people and are much larger than parliamentary constituencies or many local authorities.
Experience vital
Independents must raise a deposit of £5,000 - which they lose if they fail to win 5% of the vote. Many say that's deterred respected and experienced individuals from putting themselves forward.
Polling for the Transitional Board of the Association of Police and Crime Commissioners, suggests there is an increase in awareness, with 62% of people saying they'd heard the elections were happening. But most of those knew little or nothing about what the role of commissioner will entail.
Chief executive Mark Castle said: "From what we've gathered these is a big increase in people preparing to vote - the public becoming aware of just what this opportunity means for them."
Others believe the move to a system of elected commissioners could represent a positive step for victims of crime.
Marcelle was held at gunpoint by her ex-partner, who was subsequently imprisoned. She says most of the help she received came from the charity Victim Support.
She believes people should vote for the commissioners - but only if the candidates say they will give a voice to victims of crime and prioritise their needs. She also urged voters to question whether the candidates have the right experience for the job.
"Make sure the people you put in control are people who have some form of knowledge - we need people out there with some form of experience," she said.
The deadline for candidates to register has now passed. Most are from the established political parties. Some will say this big change is nothing more than the creation of comfortably paid - £65,000-£10,000-a-year - jobs for another set of party politicians.
But ministers say the new commissioners will finally give "frustrated communities somewhere to turn". This big experiment is about to begin.