Newspaper review: Fresh Savile allegations emerge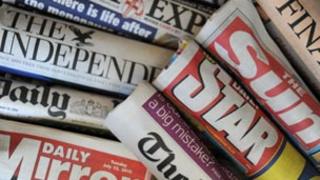 Several papers lead on Monday night's Panorama programme which will look into why the BBC shelved a Newsnight documentary on Jimmy Savile.
According to the Daily Mail, "damning" BBC emails have revealed what it claims is "the full extent of... the Jimmy Savile scandal".
The Times says Panorama will "turn its guns on the corporation" by suggesting that viewers and listeners were misled.
The Guardian talks of BBC emails sparking a "war over Savile".
Advice for PM
The papers are full of advice for David Cameron. "Get a grip Prime Minister", says the Sun. "Cabinet divisions mean Plebgate rumbles on while Tory hostility to Number Ten increases".
The Daily Telegraph says it has learnt that several members of the cabinet are now privately warning that growing allegations of government incompetence will undermine the Conservatives' re-election efforts.
According to the Daily Mirror, David Cameron increasingly looks like a PM in power but not in control.
Conservative commentator Tim Montgomerie writes an article in the Daily Mail under the headline: "The real problem isn't class , it's just incompetence".
Train travel
MPs are criticised after revelations that more than 180 claimed for first-class rail travel in the last year.
They "still don't get it", the Daily Mirror says. "If the MPs bothered to travel standard class," it says, "they might realise how tough life is in these times."
Meanwhile, the Independent says it has carried out research which has found that the vast majority of councils have "abandoned" all but the most severely disabled.
The paper says cuts will see people losing vital support which gives them help with shopping, bathing or cooking.
Charities are said to have condemned the cuts as "inhumane," claiming that they will leave society's most vulnerable "utterly isolated".
Cold front
The UK is being targeted by up to 1,000 cyber attacks every hour, the Daily Telegraph reports.
The paper says intelligence sources have warned of a "relentless campaign" to steal secrets or disable systems.
B-b-brace yourself, the Daily Star warns. Britain will get one last crack at summer this week, before a -5C arctic blast rolls in.
Temperatures could "nudge a balmy 21" during the week but winter will show its face on Friday.