Boycott police commissioner vote - ex-Met chief Blair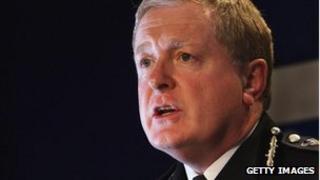 Former Metropolitan Police chief Lord Ian Blair says people should not vote in elections for police and crime commissioners next month.
Each commissioner would have to control too large an area, he said.
And he told the Sky News Murnaghan programme the only way to stop the proposal was to refuse to take part in the elections.
Home Secretary Theresa May said the commissioners will, for the first time, have a democratic mandate over police.
Voters in all parts of England and Wales outside London will elect a person to oversee each police force on 15 November.
The police and crime commissioners will replace police authorities in 41 areas and will be paid a salary between £65,000 and £100,000.
Local police authorities made up of councillors, currently control police budgets, set priorities and have the power to recruit or dismiss their area's chief constable.
The Home Office has launched a media campaign to drum up interest in the elections.
'Swept away'
Lord Blair, who left the Met in 2008, said he had always encouraged others to vote before, but that he did not want people to vote this time.
He had previously expressed reservations about the plans but told the Murnaghan programme: "I've never said this before but I actually hope people don't vote because that is the only way we are going to stop this.
"If they were going to break policing up, do it in a completely different way, small cities and small towns, perfect. But that is not what you have got.
"How can one person represent the conservative shires of Oxfordshire and Slough? What is this?"
Lord Blair also said the government had gone about introducing commissioners in the wrong way.
"Remember the police authorities are being swept away, they are being replaced by a police and crime panel who can't even talk to the chief constable.
"This is just a very strange issue to come forward with at such a difficult time for the country."
Election 'farce'
Mrs May told BBC 1's Politics Show that the current system of police authorities "have no democratic mandate to do this job of overseeing the police".
And she said that contrary to some reports, the candidate manifestos were not just available online, but also in print if people requested them in that format.
She went on to say that the public were being informed of the elections by the government's media campaign and also by the candidates themselves, who were campaigning for votes.
There have already been warnings about the possible low turnout by the public.
The Electoral Reform Society has predicted turnout for these elections will be as low as 18.5% - compared with 65% in the 2010 general election.
Its chief executive Katie Ghose warned the elections were in danger of "turning into a farce".
A Home Office spokesman said: "The arrival of police and crime commissioners will mark the most significant democratic reform of policing in our lifetime.
"For the first time the public will finally have a say on key decisions about crime and policing in their area.
"We expect the public will exercise this important new democratic right and vote."