Newspaper review: Fresh focus on MPs' expenses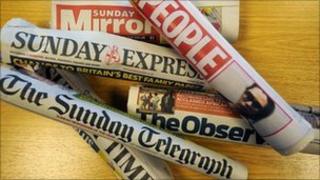 There is fresh focus on MPs' expenses, with the Sunday Telegraph reporting more than 180 MPs are enjoying first-class rail travel on the taxpayer.
It says they are exploiting a loophole in the rules allowing them to buy a first-class ticket if cheaper than the anytime standard fare for short notice journeys.
The Mail on Sunday says Ed Miliband has been branded a hypocrite because he mocked George Osborne for travelling first class on Friday but many of those exploiting the loophole are Labour MPs.
Rental property
The claims about rail travel are just the latest in a growing list of new controversies about expenses.
The Sunday Mirror says a Tory MP is claiming money for staying in a hotel near a flat which he rents out -- it concludes the expenses system "urgently needs to be looked at again".
The Sun highlights a Labour MP who it says claims rent for a flat while he lets out a property he owns nearby.
"Is it any wonder the public are so cynical about politicians?", it asks.
Savile scandal
The scandal about Jimmy Savile has deepened, says the Sunday Telegraph, both for the government and the BBC.
It identifies Edwina Currie as the health minister who put the presenter in charge of a taskforce overseeing Broadmoor hospital in the 1980s.
Mrs Currie has said she has "nothing to hide".
The Observer says it has discovered that BBC presenters who have had complaints raised against them have been allowed to go on working without facing any formal investigation.
'Fantastic Frankel'
The triumph of the world's number one race-horse Frankel in the Champion Stakes makes it onto the front page of the Sunday Times.
The paper describes him as the £100m wonder-horse, saying he could become Britain's answer to Seabiscuit, the American thoroughbred whose story inspired an Oscar-nominated film.
The Independent on Sunday calls Frankel "fabulous"; for the Observer, he is simply "The Greatest".
Paul Hayward in the Sunday Telegraph says the colt's 14th victory was a final flourish for a horse who has captured the public's imagination in a way normally confined to National Hunt greats.