Andrew Mitchell's departure debated in the press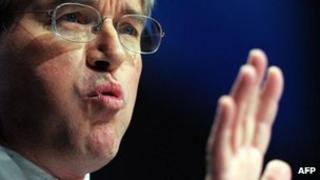 Andrew Mitchell's resignation from his post of government chief whip has sparked many column inches in the media, as well as a reaction from politicians and police.
The whole debate about what happened when he got into an argument with police officers in Downing Street a month ago had provided many commentators with plentiful material to write about.
The MP for Sutton Coldfield had faced mounting pressure over the incident in which he swore at an officer who said he could not take his bike through the main gate.
The Daily Telegraph prints Mitchell's resignation letter in full, in which he continues to deny calling the officer a "pleb" or a "moron"
The headline in the Daily Mail speaks of Mr Mitchell's resignation as being a "Blow to Cameron", saying that his chief whip's departure "raises serious questions about the prime minister's judgment in trying to shield Mr Mitchell in the first place".
'Embarrassing rebellions'
Education Minister Michael Gove said "Andrew recognised that the words that he uttered were utterly unacceptable. It was a moment of exasperation, any of us, any of us can be guilty of a moment of weakness".
The news is also covered by the Sun, which makes reference to a police log it says its reporters has seen, in which it was recorded that Mr Mitchell did use the word "pleb".
Isabel Hardman, writing in a blog for the Spectator, says "he could have clung on a lot longer, but a series of embarrassing rebellions would have eventually shown him up", referring to an earlier story by the political publication claiming Mr Mitchell's own team of whips no longer believed he had authority.
Paul McKeever, Police Federation of England and Wales chairman, said: "It is not good to see anyone fall from public office, but the decision by the prime minister to accept Andrew Mitchell's resignation seemed almost inevitable.
"Andrew Mitchell has apologised to our Metropolitan Police colleague and our colleague has accepted the apology. We hope this matter is now closed."
The Scotsman carries a quote from shadow cabinet office minister Michael Dugher, who says David Cameron has been left "looking profoundly weak and totally out of touch" by trying to "hold on to Andrew Mitchell" in the face of "understandable public anger".
Mitchell's return?
Yvette Cooper, shadow home secretary, said Mr Mitchell's resignation was a "sensible decision", adding that "letting it carry on like this sent a very bad signal to the police and public servants across the country about the government's attitude".
According to the Independent, Mr Mitchell is said to have earned the soubriquet "thrasher" during his days as a pupil at Rugby school, because of his "stern disciplinarian" tendencies. It was a reputation he apparently relished, the paper says.
The Daily Mirror refers to Mr Mitchell as being "toast" as a result of having to quit his post - and just to make the point, it prints an image of the ex-chief whip burned into a slice of bread.
This is a reference to Labour leader Ed Miliband mocking Mr Mitchell during the recent prime minister's questions in the Commons, during which he described the pre-resignation chief whip as "toast".
The Mirror also says that in his reply to Mr Mitchell's resignation letter, Mr Cameron hinted that he may one day return to the frontbench.
The PM wrote: "I hope that, in time, you will be able to make a further contribution to public life. I regret that this has become necessary and am very grateful for all you have done."
Mark Pritchard, Conservative MP, said Mr Mitchell's departure was not because of a "lack of support with the Parliamentary party".
He puts it down to "the ongoing and incessant beating of the government with a big stick by the Police Federation who clearly have an axe to grind over a whole range of government policies they're not happy [with]".
Who said what
Political commentator Guido Fawkes posts an entry on his blog, stating that former Commons leader Sir George Young is to become the new chief whip. "Yet another job for an Old Etonion [sic]," is Fawkes's take on this.
Jacob Rees-Mogg, Conservative MP, said the matter was "hugely exaggerated, that somebody lost his temper. Frankly, big deal. All sorts of people lose their temper in their daily lives, it's part of human nature".
Conservative MP Anna Soubry, a health minister, told Radio 4's Any Questions Mr Mitchell has "undoubtedly has done the right thing" and that he "should have gone earlier".
"When we do something wrong we shouldn't mess about, we should put our hands up," she said.
"As my children would say, we should 'fess up,' apologise and do the decent thing which is to resign and I am pleased he has finally done that."
Stuart Hinton, of the Warwickshire Police Federation, said the issue arising from the row was one of "honesty and integrity".
He added: "We wanted to get to the bottom of who said what and unfortunately, [Mr Mitchell] didn't tell us exactly what he did say and he still hasn't said what he did say."