Newspaper review: Papers reflect on Mitchell's resignation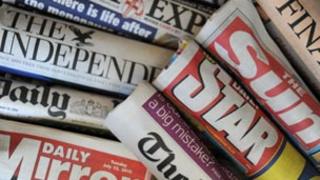 Andrew Mitchell's resignation is the lead for most papers. The Sun, which broke the original story about his confrontation with police has the headline, "Pleb and buried".
The Guardian reports that he was struck by the lack of support among the 2010 intake of Conservative MPs.
The Times describes the drawn-out resignation as a "four-week saga that put Mr Mitchell back on his bike".
Its headline is: "Police get their man as Mitchell quits at last".
Dismal week
The Daily Telegraph's MATT cartoon shows a police officer at the Downing Street gates telling a colleague: "It might be nice to let Mr Mitchell leave through the main gate today".
It says his resignation threatens to call into question the prime minister's judgment after Mr Cameron had defended him for several weeks.
The Financial Times says the chief whip's departure came at the end of a dismal week for the Tories overshadowed by the confusion over Mr Cameron's announcement on fuel tariffs.
'Great train snobbery'
The incident involving the Chancellor, George Osborne, travelling in a first-class train carriage with a standard class ticket, is also widely reported.
In most cases it is part of the story about Mr Mitchell's resignation.
It is the lead for the Daily Star, while the Independent's report has the headline: "Mitchell quits at last - but then Osborne makes a first-class howler".
The Daily Mirror and several other papers describe the incident as the "great train snobbery".
Wine plans
The Daily Express reports that there are so few horse chestnuts around because of the wet summer that one annual conker competition may have to resort to "sprout-splatting".
Organisers of the annual Bardon Mill and Roman Empire Conker Championship in Northumberland sent out a nationwide appeal for conkers earlier this week.
And the Daily Telegraph says supermarkets will be banned from offering deals that encourage shoppers to buy multiple bottles of wine under plans to be set out within days.
According to the paper, ministers believe the promotions give customers a financial incentive to purchase more alcohol than they intended to buy.