Is crowd-funding the future for wind farms in the UK?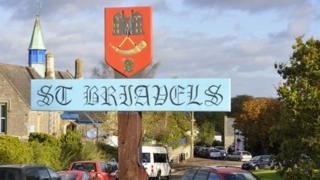 When two areas in Gloucestershire were approached about plans to build wind turbines within close proximity, one was vehemently opposed, while the other seemed to embrace it as an investment opportunity.
The "olde worlde" charm of St Briavels in the Forest of Dean is popular with tourists. They can even stay in a 13th Century gatehouse, built by Edward I to defend a crossbow bolt factory.
But now there is a new addition to the landscape - a wind turbine local people have helped fund.
The money was raised by green crowd-funding company Abundance Generation, under a scheme in which locals can invest as little as £5 and are promised a return of up to 8% on the investment, depending on how much electricity the turbine generates and sells.
In addition to this, Abundance promises a "community dividend" between £15,000 and £20,000, for use on local projects every year.
The aim, says Abundance managing director Bruce Davis, is to make people see the wind turbine not as a symbol of environmentalism - but as a motor of economic development.
"It's something the public has done for themselves, bringing the money together and bringing the planning together," he says.
"They've all come together behind the project and now what we're finding is people coming up to us and saying they feel they're part of something and have achieved something for the community."
One of the smallest local investors was a pensioner in his 80s, who put in £20.
Others have a larger stake. Bob Handley has £10,000-worth of shares in the project.
"As an investor, I can get a better return than I can from my building society. There are benefits for the community, for the farmer and for the village itself," he says.
"It is saying, look, it's not just the big energy companies that are doing this. Crowd-funding cuts out the middle man. It's just like going down to the farm shop, where you're buying directly from the producer - here you're investing directly in the producer."
But just four and a half miles up the B4228 there is a very different story.
A proposed wind turbine in the town of Coleford - put forward by a different company - ran into substantial local opposition. And in April 2012, planning permission was rejected.
David Thomson, a district councillor, voted for the project at St Briavels and against the one at Coleford. He says there was an "extraordinary difference" in the local response.
"In St Briavels there was one person against it and they then withdrew that objection. In Coleford, it's almost impossible to count. If you look on the council website there are pages and pages of letters, plus petitions with hundreds of objections to it."
So, could the answer to wind farm success lie in an innovative approach by developers, aimed at deliberately encouraging local buy-in?
Quite possibly. But there are also some significant differences between the two plans.
The turbine in St Briavels is 60m (196ft) tall and stands in a dip in a farmer's field. Its location, which was altered at one stage in order to avoid a bat flight path, means it is not visible for most local people - although one happy investor can see it from his front garden.
The turbine in Coleford would have been 86m tall, but crucially would have stood in clear view of many houses, on the edge of a golf course.
Alison Breton, the owner of the golf club, was part of the campaign against the turbine and still fears there may be an attempt to challenge the planning decision.
She says she is not against turbines per se, but argues that location is crucial. She also makes a philosophical point about the issues raised by the St Briavels project.
"This particular area of countryside, the Forest of Dean, can be spectacular. It is just gorgeous," says Ms Breton.
"If you're going to give it up to a wind turbine, community is important. It's our countryside and our communities should benefit."
That is the idea behind the St Briavels project.
The wider question is, whether it could serve as a model for other turbine projects around the country.
Listen to the story on BBC Radio 4's PM programme at 17:00 BST, or afterwards via the BBC iPlayer.