Newspaper review: David Cameron's energy plan scrutinised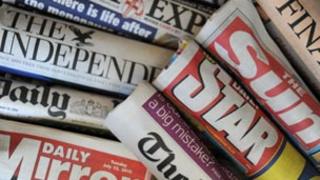 The reaction to the prime minister's announcement of a policy forcing energy companies to give customers the lowest tariffs is scrutinised in the papers.
The Times says Downing Street was in full retreat, watering down the commitment less than 24 hours later.
The Independent says the announcement confused customers and caused havoc in the industry.
Meanwhile, the Sun asks what possessed the PM to suddenly announce a new law which has caused such back-pedalling.
"Catastrophic" is how the Daily Mail describes the fall in Google shares.
Its front page reports that the company suffered a £15bn "bloodbath" in the biggest single fall in stock market history.
The Financial Times's headline for its story refers to what it calls a "results bungle", which it says sparked a "panic sell-off".
A mouse click pushed Google's shares into a nosedive, says the Guardian.
The Daily Telegraph returns to claims it made on Thursday that MPs are claiming expenses to rent homes in London while simultaneously letting property in the capital.
It reports that 27 MPs are exploiting the loophole in the rules.
The Sun accuses MPs of failing to learn from the expenses scandal.
And the Daily Mirror proposes that MPs be housed in public blocks. The Olympic village in Stratford is empty, it says, and has a Tube link to Westminster.
Ben Needham's mother is on the front of the Mirror as police prepare to start digging on the Greek island of Kos where the toddler vanished in 1991.
Kerry Needham says she believes her son is alive, but says her life will be over if his remains are found.
The Daily Star says John Terry has been fined £320,000 by Chelsea for his role in the Anton Ferdinand race row.
And the Daily Express says the football club "defied the critics" by allowing the player to remain its captain.