Couple can keep Nigerian baby after 'scam' ruling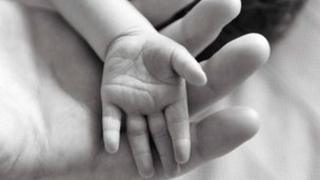 A couple, who could not have children, have been told by the High Court they can keep a baby born in Nigeria, despite tests showing they were not the child's biological parents.
The mother said she was tricked by a doctor into believing she had given birth while sedated, after she went to Nigeria for fertility treatment.
The local authority had claimed the couple's story was a "charade".
But the judge ruled they were victims of an "appalling scam".
The presiding judge Mr Justice Coleridge added the case was "extraordinary, bizarre and worrying".
Charities meanwhile have raised concerns about the judgement, warning it may encourage trafficking.
'Desperate and distressed'
At the High Court on Thursday, Mr Justice Coleridge ruled that the pair, who he described as people of the "highest calibre", should be given custody of the girl who is nearly two years old.
The couple - who live in London but cannot be named for legal reasons - failed to conceive a child despite undergoing IVF treatment in the UK.
They were said to be "desperate and distressed".
In 2010, the couple travelled to Nigeria where the woman received fertility treatment at a private clinic.
She told the court that when she returned to the clinic months later she was sedated. When she regained consciousness she was handed a baby and told she had given birth.
On her return to London, a GP raised concerns. The child was taken into care and a DNA test proved the child was not related to the couple.
They then launched legal proceedings to get custody.
At an earlier court hearing the local authority argued that the couple's story was a "charade", and they were "knowing and willing participants" in the scheme.
The court was told that such "baby exchange" frauds were common in Nigeria. Police and immigration officials in the UK are believed to be investigating several incidents.
But Mr Justice Coleridge decided the pair were victims of the "most appalling scam". He described them as "people of the highest calibre and of complete integrity".
He added he was "deeply impressed by their humanity".
On Thursday he awarded the parents custody of the child. The local authority agreed to return her to them within seven days.
The judge also made it clear the case was not an isolated example. He spoke of other cases before the court "on almost identical facts".
He said it was in the public interest for this case to be widely known.
'Unscrupulous people'
The local authority involved - which also cannot be revealed for legal reasons - said they were "disappointed" with the judgement.
"Our concern has been, and continues to be, what is in the best interest of this young child.
"We will now do all we can to ensure the child continues to thrive."
Elsewhere, some charities have expressed concerns that the judgement will have a wider negative effect and will encourage traffickers.
Andy Elvin, chief executive of Children and Families Across Borders, said: "These unscrupulous people will exploit people for vast amounts of money."
He added there is likely to be an upsurge in applications for visas for babies coming from Nigeria.
"Behind every one of these children lies an actual birth mother. She has been coerced, she may have been kidnapped or raped.
"These children are not given up willingly."