Soldiers' families get green light to sue MoD over Iraq deaths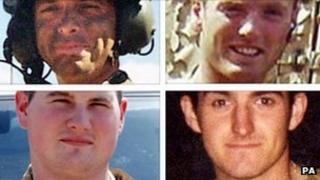 The families of two soldiers killed in Iraq have been told they can sue the Ministry of Defence for negligence.
The cases concern a soldier who died in a "friendly fire" incident and one killed when his lightly armoured Snatch Land Rover was attacked.
But the Appeal Court ruled the latter - and two other families - could not pursue claims on human rights grounds.
The MoD argued decisions about battlefield equipment were for politicians and commanders, not courts.
The Court of Appeal judgement focused on two areas - whether the MoD owes a duty of care to soldiers who are killed or injured on the battlefield and whether soldiers serving on operations abroad fall within Human Rights Act legislation.
In June 2011 the High Court ruled claims for negligence could be made over the friendly fire incident, as well as by relatives of Pte Lee Ellis, who died after a roadside bomb struck his Snatch Land Rover.
But it threw out a separate application by the families of Pte Ellis and two other soldiers killed in similar incidents that they were entitled to seek damages under the Human Rights Act.
The MoD launched an appeal against the right of the families to claim damages while the relatives involved in the Human Rights Act case challenged that ruling.
The Court of Appeal described the MoD's arguments to strike out the claims as "fatally flawed".
It decided the negligence claims of Mr Ellis's daughter and his sister, as well as that of the survivors and relatives of the friendly fire victim, are arguable and can proceed to court.
In his ruling Lord Neuberger said: "The duty of care owed by the Ministry of Defence, as employer, to the members of the armed forces, as employees, does exist and has been recognised, without demur, by the courts. It includes a duty to provide safe systems of work and safe equipment."
He rejected the human rights claims but gave the families leave to appeal to the Supreme Court.
'Milestone decision'
Lawyers for the families said the cases are ultimately concerned with the legal obligations the military owes to personnel during operations.
The UK lost 179 servicemen and women following the invasion of Iraq in 2003 - of which 136 were killed in action.
Cpl Stephen Allbutt, 35, of Sneyd Green in Stoke-on-Trent, died in March 2003, after a Challenger 2 tank was hit by another British tank. Soldiers Dan Twiddy, of Stamford in Lincolnshire, and Andy Julien, of Bolton were badly wounded in the incident.
Cpl Allbutt's widow Debi and the two survivors argue the tank was not equipped with available technology to protect them from the risk of friendly fire and say they had not been provided with adequate vehicle recognition training.
Mrs Allbutt's MP, Joan Walley, said: "I am delighted we have reached this milestone decision.
"The MoD needs to urgently review whether its current procurement policy to equip our armed forces is fit for purpose."
Pte Ellis, 23, of Wythenshawe, Greater Manchester, died after his Snatch Land Rover was attacked in February 2006.
Similar explosions killed Pte Phillip Hewett, 21, of Tamworth in Staffordshire, in July 2005, and Lance Cpl Kirk Redpath, 22, of Romford, east London, in August 2007.
Mrs Smith; Colin Redpath - L/Cpl Redpath's father; and Karla and Courtney Ellis - Pte Ellis's sister and daughter; said the men had carried out high risk patrols in "poorly armoured" vehicles that were "manifestly unsuitable for the job". The MoD announced a replacement for the Snatch Land Rover in 2009.
Susan Smith, whose son was Pte Hewett was killed in a Snatch Land Rover, was angry about not being able to pursue a claim under the Human Rights Act and drew parallels with soldiers killed or injured in their barracks due to accidents.
She said: "Why is it that the UK is always ramming down your throat about everybody else's human rights but their own soldiers have got none?"
Her solicitor Jocelyn Cockburn said: "The battle will go forward on human rights. I think it is very important to establish a principle that soldiers going into battle have human rights..."
'Far-reaching implications'
Lawyer Shubhaa Srinivasan, representing the victims of the friendly fire incident, said: "The MoD can no longer hide behind arguments relating to complexities in procuring equipment and allocation of scarce resources to evade a duty of care to adequately equip its servicemen and women who are being asked to make the ultimate sacrifice for their country."
An MoD spokesperson said: "We are considering the judgement by the Court of Appeal and as this is likely to be subject to further legal action it would be inappropriate for us to comment further."
The chairman of the House of Commons Defence Committee, James Arbuthnot, told BBC Radio 4's The World At One: "The implications of this ruling are very far-reaching indeed.
"It means that the MoD now has an extra thing that it has to take into account in everything it does in relation to war.
"It's not just that the MoD is now going to owe a duty of care in relation to all the equipment procurement decisions it makes, but also in relation to everything that an officer or a soldier does actually in the course of battle. There will be a duty of care, for which they will have to be trained".