Jails inspector warns prisoners abusing prescription drugs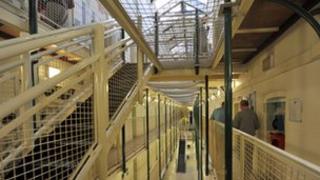 The chief inspector of prisons in England and Wales has warned that the abuse of prescription drugs in jails has become a major concern.
In his annual report, Nick Hardwick said painkillers were not detected under current drug testing procedures.
The drug abuse lead to problems such as drug debts, bullying and the risk of overdose.
The report also raises concerns about prison overcrowding and the escorting of prisoners between courts and jails.
Mr Hardwick said drugs being abused by prisoners included painkillers such as Tramadol, Gabapentin and Pregabalin.
'Very disturbing'
He warned that medicine prescribed to inmates was being diverted to those who didn't need it in most of the prisons inspected.
On the issue of overcrowding, he said that although prisons had improved in the past year, there was a "very disturbing" pattern emerging of increased assaults and incidents of self-harm.
He added the reason was the gap between the resources available and the size of the prison population.
"If a rehabilitation revolution is to be delivered," says the report, "there is a pretty clear choice for politicians and policy makers - reduce prison populations or increase prison budgets."
Other issues highlighted include problems with the system of escorting prisoners between courts and jails.
Escort contracts
Inspectors said they were "particularly concerned" that new escort contracts introduced last year permitted women and children to be transported in the same cells as adult men.
They also noted that prisoners from Wayland jail in Norfolk were "offered a bag to urinate into" during a journey, rather than the vehicle making a stop.
Mr Hardwick says: "Although most prisoners reported a reasonable experience of transfers and escort arrangements, they also reported spending long periods in court cells or in transit before arriving at their prison.
"Comfort breaks were not routinely offered despite the often long distances travelled."
The report said that the influx of prisoners during last year's riots was "inevitably disruptive" - especially in young offender institutions where gangs reformed to create new geographical allegiances.