Barry George launches compensation claim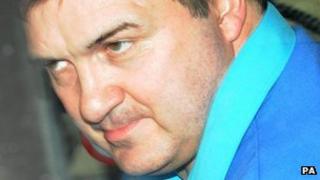 The man wrongly convicted of killing BBC presenter Jill Dando has asked the High Court to overturn a ruling which denied him compensation.
Barry George, 52, spent eight years in prison for the 1999 murder, but was cleared at a retrial in 2008.
His case is one of five test cases for miscarriage of justice compensation claims.
It comes after the Supreme Court redefined the term "a miscarriage of justice".
Mr George's claim for damages for lost earnings and wrongful imprisonment was rejected by the Ministry of Justice on the grounds that he was not legally entitled to compensation.
But with the Supreme Court's redefinition in May 2011, his case was referred to the High Court by one of the Supreme Court judges.
Ian Glen QC, appearing for Mr George, has asked Mr Justice Beatson and Mr Justice Irwin to rule that the decision to deny compensation was "defective and contrary to natural justice" and a breach of the right to a fair trial under Article 6 of the European Convention on Human Rights.
Mr Glen says there was no material to suggest that an "open-minded reconsideration" of Mr George's case has taken place at ministerial level following an original decision that was "flawed by illegality".
He told the court that the Barry George case has "always had a life of its own" and that "it has always been a weak case".
He said that after the acquittal: "A functionary in the Ministry of Justice has decided Barry George is not innocent enough of murder to be compensated."
Evidence doubts
Mr George was convicted in 2001 of shooting Miss Dando dead outside her London home in April 1999.
The Court of Appeal quashed the conviction in 2007, after doubts over gunshot discharge residue evidence - and a 2008 retrial acquitted him.
At the time of acquittal, the Crown Prosecution Service said Mr George "had the right to be regarded as innocent".
In the landmark Supreme Court ruling last year, the then president Lord Phillips said that the "mere quashing" of a conviction could not be a "trigger for compensation".
He said a miscarriage of justice occurred when a new fact "so undermined" prosecution evidence that no conviction could possibly be based upon it.
He said the new test would not guarantee that all those entitled to compensation were "in fact innocent".
But it would ensure that when innocent defendants were convicted on discredited evidence they were not "precluded" from obtaining compensation because they could not prove their innocence beyond reasonable doubt.