Flooding hits west coast of England and Wales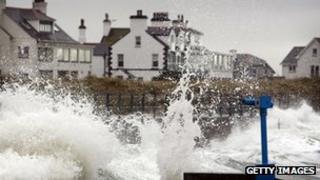 High tides and gale-force winds caused flooding in coastal parts of south-west England and Cumbria, with further flood warnings issued for parts of Wales.
Looe and Mevagissey in Cornwall, and parts of Devon, saw flooding with winds of up to 60mph forecast later.
And the Cumbrian coastal towns of Whitehaven and Egremont have also been flooded.
The Environment Agency has issued 14 flood warnings - indicating flooding is expected - for the South West coast.
The agency also said there are particular concerns for parts of Sussex, Hampshire and the Isle of Wight.
Wednesday's tides are expected to be some of the highest of the year, and low-lying coastal roads, paths and farmland could be vulnerable to flooding.
People should be particularly careful on exposed areas, where there was a risk of being swept away by waves or being hit by debris thrown up by waves, the agency said.
It has nearly 70 flood alerts, indicating flooding is possible, in place, mainly in the South East and South West, along with 30 flood warnings.
Rail collapse
The harbour master in Looe, in south Cornwall, said flooding to properties close to the sea was the worst he had seen in the seven years he had been there.
Jeff Penhaligon said the water had subsided after this morning's high tide but the village was now preparing itself for the next one, at about 20:00 BST.
"We flood quite regularly with the tides but not normally as bad as this," he said.
"It's difficult to see exactly who's been affected but I think some of businesses and restaurants near the harbour. It all depends whether people were able to get their storm boards up."
In Cumbria, where there is one flood warning in place, police warned motorists to avoid the centre of the coastal town of Whitehaven where a number of streets are closed following heavy rain and localised flooding. Egremont has also suffered flooding.
And heavy rain has caused a landslip on a stretch of rail line in west Cumbria where a train was derailed six weeks ago.
Services were halted after part of an embankment collapsed on to the Sellafield to Whitehaven line near St Bees. No-one was hurt.
In other developments:
The Met Office said winds were expected to increase to "gale or severe gale force" on exposed parts of the coast, which could lead to localised disruption to transport.
It has issued yellow warnings for severe weather - a warning to "be aware" - for Northern Ireland, south-west Scotland, Lothian Borders, Strathclyde, south-west England and Wales.
Ferry services between Douglas on the Isle of Man and Liverpool have been cancelled following a gale warning in the Irish Sea.
The coastguard said there was "significant risk" of flooding that was likely to cause damage or disruption on the island's east coast.
The western and southern coasts of Wales were likely to experience severe gale force winds, with many areas warned of flooding, the Met Office said.
There are currently 13 flood warnings and 11 flood alerts in place around the Welsh coastline.
BBC Wales weather presenter Behnaz Akhgar said the main area of concern was the Severn estuary.
"An area of low pressure is bringing very strong winds from the south-west," she said.
"The winds touching gale force at times especially along the south and west coast where you are closer to the area of low pressure."
She added that the winds were expected to ease on Thursday, with the weather improving towards the weekend.