Newspaper review: Gary McKinnon dominates papers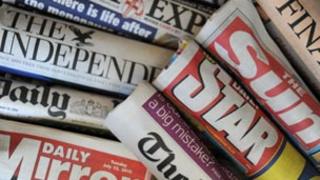 The decision by Home Secretary Theresa May to block the extradition of British computer hacker Gary McKinnon to the US is scrutinised in Wednesday's papers.
For the Daily Mail, which campaigned against his extradition, it was "a glorious day for justice".
Political calculation played a part in Mrs May's decision, concludes the Daily Mirror, which says she was right.
But the Daily Telegraph argues that the home secretary has set an "uneasy precedent" for future home secretaries.
The bleak economic outlook is reflected in a number of newspapers.
The Daily Telegraph reports that the Treasury believes the British deficit five years ago was about £38bn larger than previously thought.
It means "Britain entered the global financial crisis in a worse position than other major economic powers".
And the Sun reports that 66 people now chase every single job in retail, while the odds of getting an office job are 44 to one against.
"Sickening" is how the Sun describes violent scenes in Serbia, where England Under-21 players were the targets of racist abuse.
It says the players faced a "barrage" of coins, cigarette lighters and rocks.
The English victory, says the Daily Star, was "wrecked" by what the paper calls a "pitch battle".
The Independent refers to the incident as "a mass brawl" that involved not just players but staff from both sides.
"In another life," says the Daily Telegraph, "the Prince of Wales might have made an admirable politician".
Its musings come as it digests the ruling by the attorney general that we will not see the letters in which he sets out views on a range of topics.
The Times calls the ban "lamentable", saying we should be able to verify whether the future monarch is "politically neutral".
And the Guardian refers to the affair as "a right royal cover up".