Jimmy Savile scandal: Labour seeks independent inquiry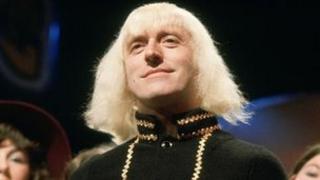 Labour is calling for an independent inquiry into claims of child sex abuse by ex-BBC presenter Sir Jimmy Savile.
Police believe Savile may have sexually abused 60 people since 1959 and the BBC has ordered two reviews.
But Labour leader Ed Miliband told ITV an independent inquiry into "the BBC, parts of the NHS and Broadmoor" was needed to "do right by the victims".
No 10 said the priority was the police investigation. However, it did not rule out a wider inquiry in the future.
It is the first time Labour has called for an independent inquiry into the abuse allegations against Savile, who died in October 2011.
'Major concerns'
A raft of allegations regarding the former BBC DJ and presenter's conduct came to light in the wake of an ITV investigation, which was broadcast on 3 October.
Scotland Yard, which is co-ordinating the investigation into Savile's alleged offences, has said it is following up 340 lines of inquiry.
The BBC has been criticised for not calling Savile's behaviour into question and flagging up any abuse allegations during his long career at the corporation, during which he presented several television shows including Top of the Pops and Jim'll Fix It.
Abuse is also alleged to have taken place at high-security psychiatric hospital Broadmoor and at Stoke Mandeville hospital and Leeds General Infirmary, where Savile volunteered.
The Department of Health has said it will investigate its own conduct in appointing Savile to lead a "taskforce" overseeing the management of Broadmoor in 1988.
Meanwhile, Leeds Teaching Hospitals Trust said it would help police if asked to do so.
The BBC has launched two separate internal investigations into the Savile affair. The first will look at why a BBC Newsnight investigation into abuse claims was not brought to air.
The second will look into the culture and practices of the BBC during the years that Jimmy Savile worked at the corporation, and afterwards.
On Monday Tory MP Rob Wilson told the Commons he had a "number of major concerns that the investigations announced by the BBC will not be sufficiently independent, transparent and robust to give the public confidence".
But Culture Secretary Maria Miller told MPs she was "confident" BBC chiefs were taking the claims "very seriously" and warned that an outside inquiry could hamper police investigations.
"Everybody would agree that it is really important that those individuals who have been victims know that that investigation can go on unfettered and that that should be our priority at this stage," she said.
Mrs Miller said there was no need for a wider inquiry while the police investigation was going on. It was crucial detectives were allowed to continue their investigation "unfettered" by other inquiries, she added.
'Absolutely horrific'
However, speaking to ITV's The Agenda, Mr Miliband said internal investigations were not enough. He said: "In order to do right by the victims, I don't think the BBC can lead their own inquiry.
"We need a broad look at all the public institutions involved - the BBC, parts of the NHS and Broadmoor. This has got to be independent."
Mr Miliband said he believed the sexual abuse was a "pattern of activity which spanned a number of institutions".
He said he felt there were now enough allegations that it was now clear this was "not some isolated set of incidents".
The Labour leader added that the abuse was "absolutely horrific" and would "scar [the victims] for life".
"I think for them, the BBC - good institution though it is - I don't think they can lead their own inquiry," he said.
Meanwhile, BBC director general George Entwistle has offered to appear before the House of Commons Culture, Media and Sport select committee over the scandal.
He was due to appear in front of MPs later this year, but he had offered to bring it forward to 23 October, said culture committee chairman John Whittingdale.