Newspaper review: Drug decriminalisation plan explored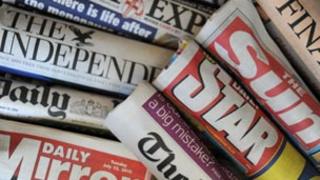 A study which says possession of small amounts of drugs should be decriminalised is explored in a number of Monday's newspapers with the Daily Mail concluding that parents will be left "exasperated" by the plan.
The paper disagrees with its conclusion, saying police should enforce the law with vigour.
The UK Drug Policy Commission report also says it should be recognised that, as with alcohol, people use drugs for pleasure, the Times reports.
Commission chair Ruth Runciman writes in the Guardian that Britain's drugs policies could be wasting millions.
'Siren song'
The Daily Telegraph looks ahead to David Cameron's meeting with Alex Salmond to agree the terms of a referendum on Scottish independence.
It says a tour of a Fife shipyard where aircraft carrier HMS Queen Elizabeth is being built is significant.
The Guardian says he wants to stress a shared military history.
The Daily Mirror urges Scots to ignore what it calls Mr Salmond's "siren song" because Britain is "far stronger united than divided".
Boundary review
The Financial Times says senior Conservatives, including a minister, have told the paper about a plan which the FT describes as an audacious "cash for seats offer" to Nick Clegg.
It would give the Lib Dems millions of pounds in state funding in return for Mr Clegg's support for a constituency boundary review, it adds.
It says this would give Tories an extra 15 to 20 seats at the next election.
But an aide to Mr Clegg tells the paper he would not support a review.
Death defying
The Daily Mirror, the Independent, the Sun and the Daily Telegraph all have pictures of Felix Baumgartner leaping from a capsule to become the first skydiver to break the speed of sound.
The Times says his feat was death-defying because his blood might have boiled had his spacesuit malfunctioned.
It is an antidote to modern-day, risk-averse culture, it adds.
The Daily Mirror says the "bonkers" Austrian has shown the spirit of adventure is "alive and flying".