Inquiry into Legion lobby claim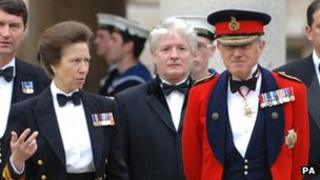 The Royal British Legion is to investigate allegations that its national president lobbied government ministers at Remembrance Sunday events.
The Sunday Times reported Lt Gen Sir John Kiszely was among several retired military leaders who had offered to influence MPs on behalf of arms firms.
It said he boasted his role gave him top-level access at "various extremely boring affairs". He denies wrong-doing.
The legion said the honorary role should not be used for commercial gain.
Conflict of interest
The Royal British Legion's director general, Chris Simkins, said the remarks would be referred to the legion's governance committee for review on Monday.
The findings of the review would be reported to the charity's board of trustees "for any necessary action", he said.
Mr Simkins said the legion had "a code of conduct which addresses the issue of conflict of interest".
"The honorary position of national president falls within this code and should not be used for commercial gain or in order to gain access to politicians and senior military figures for purposes unrelated to his position as national president."
The legion's investigation comes after the Ministry of Defence said it was investigating whether it was possible for anyone to secure "privileged access" and whether any rules had been broken.
The Sunday Times reported that two undercover reporters posed as representatives of a South Korean arms company offering to hire Sir John - for £110,000 a year - to help sell a drone to the Ministry of Defence.
Sir John reportedly told the journalists: "I am meeting at various extremely boring affairs - some of them are actually quite exciting - people you talk to at the top of defence. So, you know, [Defence Secretary] Philip Hammond, [head of the armed forces] Sir David Richards... people like that, and I'm not boasting but I just happen to be bumping into them on a daily basis.
"It sounds totally grand: you're standing there waiting for the Queen with nothing else to talk about to Philip Hammond than whatever."
'Tremendous networking'
He reportedly said that the Festival of Remembrance, where fallen soldiers are commemorated, was a "very sought-after event, and we do invite people, and commercial people can get in on that and... it is a tremendous networking opportunity".
Mr Simkins responded to the comments, saying: "The list of guests invited to attend the Festival of Remembrance, and the seating arrangements, are administered internally without influence by the national president.
"The president does not have any personal guests in his box at the festival in which he entertains senior politicians and military personnel as guests of The Royal British Legion."
Sir John reportedly also said that if he tried to book a meeting with armed forces minister Andrew Robathan on behalf of a defence company "I probably wouldn't get through the door".
But if he used his role as legion president then "I'd be straight in the door", where he could then mention the company.
The paper said that when it asked Sir John, a former Defence Academy head, about his comments he replied: "I have always kept my role as national president of the Royal British Legion completely separate from my business interests.
"I have never... used access gained in my legion role to raise the subject of, or discuss, any business interests whatsoever, let alone to make representations on behalf of clients."
He also denied inviting business contacts or clients to any legion event.