Newspaper review: Savile claims continue to shock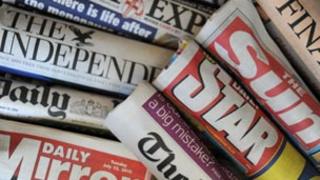 The face of Sir Jimmy Savile continued to appear on many of the front pages as further claims of sex with underage children lead the Sunday Telegraph and the Star on Sunday.
According to the Telegraph, Savile was investigated by police over sex abuse allegations at least half a dozen times over six decades. The paper says he was first investigated "for interfering with young girls" when he was a nightclub manager in Leeds as long ago as 1958.
The Sunday Express said his privileged access to the weak and vulnerable allowed him to prey on victims who seldom spoke out and were rarely believed if they found the courage to do so.
But Joan Smith - writing in the Independent - said Savile is the catalyst for a dramatic change in public attitudes towards verbal harassment, unwanted touching and worse. In the past few days, people who had not previously thought about it have suddenly realised that "a bit of harmless fun" might actually be a sexual assault.
'Our pain'
Elsewhere, the Mirror, the People, the Sun on Sunday and the Star complain bitterly about what they perceive as the government's lack of action against energy companies for putting up their prices.
The Sun said the price rises are so crippling that even the better off are likely to break out in a cold sweat every time they hear the boiler switch on.
The paper tells its readers: "We don't want to hear David Cameron say he feels our pain. We want him to ease it."
Landmines are the subject of the Independent's lead. The paper said it is disappointed that, after years of steady decline in the number of casualties, the numbers harmed by landmines is rising again. The Arab Spring is apparently to blame - with Syria, Libya and Yemen reported to have laid new mines.
Several papers have also reported how Andrew Mitchell, the government's chief whip, is facing pressure from his colleagues to resign over his outburst at Downing Street police officers.
According to the Telegraph, at least 10 Conservative ministers want him to step down.
The Sunday Times said some senior Tory figures are privately urging the prime minister to sack Mr Mitchell before the Commons returns on Monday.
But the Independent reports that 70 MPs have sent Mr Mitchell messages of support.
Perfectly coiffed
Finally, some of the papers have carried have pictures of Lady Thatcher with her son and his wife leaving her home to go out for a meal to celebrate her 87th birthday.
The Mail on Sunday observed that the traditional Tory blue outfit was immaculate and the famous hair, still perfectly coiffed, is now platinum white.