Badger culls 'could increase TB levels'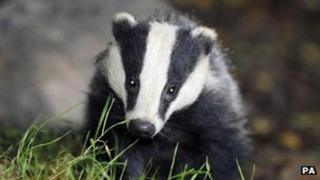 Planned badger culls in England risk increasing rather than decreasing the spread of TB in cattle, more than 30 animal disease experts have warned.
In a letter to the Observer they call on ministers to halt pilots in Somerset and Gloucestershire where badgers - which can carry TB - are to be shot.
They say the pilot culls are too small to provide useful data and risk becoming "a costly distraction".
Defra says the action is necessary to protect cattle from bovine TB.
Last year, 26,000 cattle in England had to be slaughtered after contracting the disease.
The Welsh government has opted for a system of vaccination while Scotland is officially TB-free.
'Limited benefits'
Academics from the UK, as well as US universities, write that "as scientists with expertise in managing wildlife and wildlife diseases, we believe the complexities of TB transmission mean that licensed culling risks increasing cattle TB rather than reducing it".
Signatories include former government chief scientist and Royal Society president Lord May as well as Zoological Society of London president Professor Sir Patrick Bateson.
They say that, even if the increases do not materialise, "the government predicts only limited benefits, insufficient to offset the costs for either farmers or taxpayers".
"Necessarily stringent licensing conditions" mean many TB-affected areas of England will remain ineligible for such culling, they say.
They add: "Unfortunately, culling badgers as planned is very unlikely to contribute to TB eradication.
"We therefore urge the government to reconsider its strategy."
Supporters of the badger culls, which could begin in Somerset and Gloucestershire within days, say that, with no effective vaccines currently available, they are the best means of trying to tackle the disease.
The pilot schemes, which aim to assess the effectiveness of the government's plan to slow down the spread of TB in cattle in England, will be monitored by an independent group for a period of six weeks.
If the body is satisfied that the culls are effective and humane it will advise ministers to continue the trials for four years - which could pave the way for further applications.
'Crazy' scheme
The government's plan is based on the results of a nine-year trial which showed the spread of the disease could be slowed slightly if more than 70% of badgers in an area could be eradicated.
But if it was less than 70%, the spread of TB could increase, it found.
Last month, scientist Lord Krebs, whose research is being cited by the government to justify its culls, told BBC News the scheme was "crazy".
He said the Department for the Environment, Food and Rural Affairs (Defra), which was administering the scheme, had no way of knowing how many badgers there were in the areas and so would not know when 70% of the animals had been killed.
"I would go down the vaccination and biosecurity route rather than this crazy scheme that may deliver very small advantage, may deliver none," said Lord Krebs, who has also signed the letter.
"And it's very hard to see how Defra are going to collect the crucial data to assess whether it's worth going ahead with free shooting at all."
Defra Minister David Heath has said the department's priority is to make sure any culling of badgers is carried out in a safe, humane and effective way.
He said the licences for pilots issued met strict criteria imposed and they would "help us assess the effectiveness of controlled shooting before we look at a wider roll out to control the spread of bovine TB in cattle".
"No-one wants to kill badgers but the science is clear that we will not get on top of this disease without tackling it in both wildlife and cattle."