Jimmy Savile 'asked about rumours' by BBC boss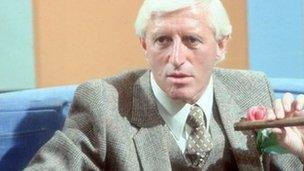 One of Sir Jimmy Savile's former bosses at Radio 1 has said he questioned the DJ about rumours over his private life more than 20 years ago.
Derek Chinnery, Radio 1 controller from 1976-85, said he asked the entertainer about "these rumours we hear".
"And he said that's all nonsense," Mr Chinnery told BBC Radio 4's Broadcasting House, adding "there was no reason to disbelieve" the late DJ.
Police believe Savile may have sexually abused 60 people dating back to 1959.
Scotland Yard, which is co-ordinating the investigation, said it was following up 340 lines of inquiry and is in contact with 14 other police forces.
Police said the allegations spanned six decades, with reports up to and including 2006.
The BBC has launched two inquiries relating to the claims surrounding Savile, who presented Top of The Pops and Jim'll Fix It in the 1970s and 80s, and died in October 2011, aged 84.
Gwent Police say they have received a complaint from a woman who claims she was sexually assaulted by Savile in the 1970s
Justice Secretary Chris Grayling says it is "right and proper" police investigate all the allegations and the BBC "in particular, has to learn lessons from this"
Sir Michael Lyons, who was chairman of the BBC Trust from 2007 to 2011, says the consequences of the allegations spread "well beyond" the BBC and there may be lessons about "the licence that we sometimes allow to celebrities"
Jane Root, controller of BBC2 from 1999-2004, tells the Observer there needs to be a "truth and reconciliation commission" into Savile, along with perceived sexism in the corporation, and "throughout television", in the 1980s and early 1990s
Victims' groups say they have seen a rise in the number of people contacting them about abuse. The National Association for People Abused in Childhood tells the Observer its hotline has received 1,400 calls in the past 10 days - seven times the usual amount
Savile worked at Radio 1 from 1969 to 1989. During Mr Chinnery's era in charge, Savile was presenting a weekly show broadcasting charts from previous decades.
In an interview with BBC reporter Sima Kotecha for the Broadcasting House show, Mr Chinnery said he approached the star directly when he heard rumours relating to his private life.
"I asked what's all this, these rumours we hear about you, Jimmy?" he said.
Asked about accepting a denial by the former presenter, Mr Chinnery said: "It's easy now to say how could you just believe him just like that but there was no reason to disbelieve him.
"He was the sort of man that attracted rumours, after all, because he was single, he was always on the move, he was always going around the country."
Sima Kotecha said another Radio 1 senior executive of that time told her they also recalled the same meeting, having been asked by Mr Chinnery to be there as a witness.
The BBC said the issues raised would be covered in its reviews but it would be inappropriate to comment before the reviews were complete.
A fortnight ago, former Radio 1 press officer Rodney Collins told BBC News that, in 1973, he had been asked by a previous controller of the station to check whether newspapers were planning to print allegations of Savile having inappropriate liaisons with underage girls.
Mr Collins said Douglas Muggeridge, station controller from 1968 to 1976, had told him "there were allegations about a programme called Savile's Travels that went round the country from Radio 1 - Jimmy and a caravan".
Mr Collins added: "There were allegations that there were girls, underage girls involved, maybe, in the caravan."
He said he reported back that the papers had "heard these allegations" but were unwilling to print them "whether they were true or not" because Savile did a lot for charity and was "perceived as a very popular man".
Tony Blackburn, who presented shows on Radio 1 during Savile's time at the station, said there were "always rumours circulating" about Savile.
"It will be to the eternal regret of me and, I'm sure, so many of my BBC colleagues that he was allowed to get away with these monstrous acts," he said.
"All of us who worked at the BBC during the time of these heinous crimes owe it to the victims to speak to the police and the BBC investigations unit and help them in any way we can."
Related Internet Links
The BBC is not responsible for the content of external sites.