Newspaper review: Savile allegations still dominate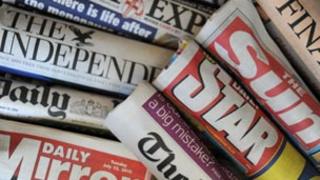 In Saturday's newspapers, the focus remains on the rising number of abuse allegations against Sir Jimmy Savile.
The Guardian says the Department of Health could be sued over claims Savile abused patients while volunteering at Broadmoor Hospital, a high-security psychiatric institution, in the 70s and 80s.
A lawyer acting for some victims tells the paper it is possible the government could face civil claims because it was responsible for running the hospital at the time.
The Independent says the BBC and NHS could face claims worth millions of pounds.
Groping claim
The Star leads with a claim by The Office actress Julie Fernandez that she was groped by Savile when she was 14.
The actress, who uses a wheelchair, tells the paper that his hands lingered "in places that they shouldn't" when she took part in Jim'll Fix It in 1988.
For the Financial Times, the handling of the crisis has eroded public trust in the BBC and put the corporation's reputation at stake.
Quentin Letts, in the Daily Mail, says the mood at the BBC is one of "panic".
'Gate-gate' continues
Police calls for Conservative Chief Whip Andrew Mitchell to quit or be sacked are reported in the Daily Telegraph.
It says he could be called to give evidence if there is a Metropolitan Police disciplinary hearing against two officers who say he called them "plebs" in Downing Street.
The Times says MPs face a pay cut if they take a second job under plans to be announced by the Independent Parliamentary Standards Authority.
It says the proposals are likely to be "fiercely opposed" by MPs.
'Beyond satire'
The Mail says the decision to give the Nobel Peace Prize to the European Union has been greeted with "ridicule, bemusement and derision".
Max Hastings, writing in the paper, describes it as the "Nobel Prize for Idiocy", saying it goes "beyond satire".
Meanwhile, the Daily Express says Brussels is threatening to take Britain to court unless the government pays benefits to migrants from the EU.
It reports "fury" in Whitehall at what it describes as "EU meddling".