Jimmy Savile sex abuse claims: BBC to launch inquiries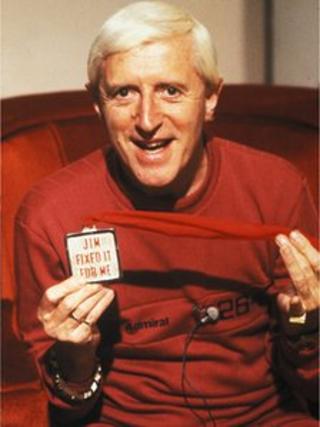 The BBC is to launch two inquiries surrounding sex abuse claims made against Sir Jimmy Savile, director general George Entwistle has announced.
The first into why a BBC Newsnight investigation into Savile was shelved last year will start straight away.
The other into whether culture and practice at the BBC at the time enabled Savile to carry out the sexual abuse of children will wait for police go-ahead.
Police said they had now received 340 potential lines of inquiry.
At a news conference, Mr Entwistle said both inquiries - commissioned by the BBC Executive Board - would be chaired by independent external experts, whose names would be announced next week.
He said: "Jimmy Savile's victims have faced years of pain and we owe it to them and our audiences to understand how this happened and make sure nothing like it can happen again."
He added: "I have one thing to repeat - that is a profound and heartfelt apology on behalf of the BBC to every victim. It is the victims, these women who were subject to criminal actions, who must be central in our thoughts."
"And it is the fundamentally criminal nature of many of these allegations that has made supporting the police my first priority. But the BBC will not avoid confronting the events of its past to understand what happened and to try to ensure that nothing of this kind can happen ever again at the BBC. "
Mr Entwistle also announced a third strand to the inquiries which will relate to sexual harassment at the BBC.
"Next week I will have news about how we will deal with allegations of sexual harassment. I will give you more details of this as soon as I have them. I remain confident our existing policies are working effectively to deal with any such problems today," he said.
On Friday, Conservative MP Rob Wilson wrote to the director general calling for an independent public inquiry into the dropping of Newsnight's investigation into Savile.
But in an interview on BBC Radio 4's Today Programme on Saturday, Sir Christopher Bland, chairman of the BBC board of governors from 1996 to 2001, said: "The rules of the BBC, the editorial independence... are so strong that the idea that the programme was pulled because of intervention from on high is, I believe, absolutely impossible, but that has to be confirmed."
Sexual offences
Meanwhile, the BBC said it could reconsider naming a new wing of its Broadcasting House in central London after the late DJ John Peel after allegations he had sex with a 15-year-old were published in the Daily Mail.
The Metropolitan Police said it was now in contact with 40 potential victims of Savile and continued to liaise with 14 police forces. The Met has officially recorded 12 allegations of sexual offences but expects this number to grow.
A spokesman said: "Officers from the serious case team of the child abuse investigation command will continue to contact those who have come forward, to ensure that they are given the advice and support they need.
"We would once again praise the courage of, and thank everyone who has come forward to provide us with information to assist in understanding the scale of abuse perpetrated by Savile."
On Friday, the BBC said it was "disturbed" by allegations that a former TV producer was ignored when he reported an abuse claim against Savile to bosses.
The Sun newspaper said that David Nicolson caught Savile having sex with a young girl in a BBC dressing room.
Mr Nicolson, now 67, is reported to have told managers at the BBC about the alleged incident, but was told: "That's the way it goes."
A BBC spokeswoman said: "We have been disturbed to hear these allegations. All staff past and present who have any information relating to allegations of this kind should raise them with the BBC's internal investigations unit or with the police directly."
Deputy Prime Minister Nick Clegg said he could not understand how [the alleged abuse] had "remained hidden for so long".
"There must have been just so many people who knew what was going on in hospitals, the BBC, maybe in the police," he told BBC Radio 5live.
'Duty of care'
The allegations against Savile, who died a year ago, are continuing to be made.
Television actress Julie Fernandez said Savile groped her when she appeared on the BBC's Jim'll Fix It programme at the age of 14.
Ms Fernandez, who went on to appear in the BBC shows The Office and Eldorado, said Savile's hands "lingered in places they shouldn't" as she sat beside the presenter in her wheelchair.
It has also been claimed that Savile sexually assaulted a 10-year-old boy while he was at the Haut de la Garenne children's home in Jersey.
Alan Collins, a lawyer for the alleged victim, said the "vulnerable" boy had been subjected to a serious assault.
Meanwhile, the Department of Health has said it will investigate its own conduct in appointing Savile to lead a "taskforce" overseeing the management of high security psychiatric hospital Broadmoor in 1988.
It comes after the Sun claimed Savile assaulted a 17-year-old patient during a visit as a hospital fundraiser in the 1970s.
"In hindsight he should very obviously not have been appointed. Had anyone involved in the appointment been aware of allegations of abuse against Savile, we would not have expected him to have been appointed," a spokesman said.
The BBC has learned that some of the women making abuse claims may seek compensation from the BBC and from Stoke Mandeville Hospital.
Child abuse lawyer Liz Dux, who said she had been contacted by several of the women in the past few days, said: "The case would be against the BBC or the hospital because essentially they would be held vicariously liable in law for the acts of someone like Savile who was acting as their agent.
"That's particularly the case where they might have had suspicions about what was going on. Their duty of care is heightened if there was that degree of foreseeability."
The BBC said it would not be able to comment on the claims while the police investigation was ongoing.