Newspaper review: Savile scandal dominates papers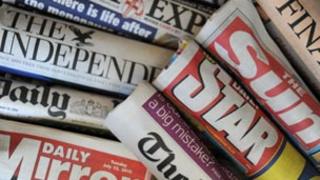 The Jimmy Savile sex abuse scandal is on most of the front pages.
The Sun says a top TV director has revealed that he blew the whistle on the entertainer having sex with a young girl at the BBC, but was ignored.
The Daily Star reports that a fourth, well-known television personality, has been accused of abusing a young girl.
The Independent says the sheer scale of Jimmy Savile's sexual abuse is emerging, "Why did nobody stop him?" the paper's headline asks.
Fuel prices
The announcement by British Gas of a rise in electricity and gas prices is the lead for the Times and the Daily Express and raises hackles elsewhere.
Another winter and another thumping round of price rises, the Sun says. .
Here we go again, heading for another winter of budget-busting fuel bills, the Daily Mirror declares. .
It calls for tougher regulation of energy companies, saying they should justify price rises in advance to a watchdog with veto powers.
Whip
Several papers suggest the Cabinet Office Minister Francis Maude may replace Chief Whip Andrew Mitchell.
He is still under pressure after his outburst at police officers guarding the Downing Street gates.
The Daily Telegraph says there's growing speculation that Mr Mitchell will resign or be sacked.
The Independent says some Tory MPs believe the affair has left him without the authority to do his job when the Commons returns on Monday.
Whisky mix-up
Several papers report a restaurant has apologised after serving a two-year-old boy a large measure of whisky.
The Sun says Sonny Rees's family had taken him to Frankie and Benny's diner in Swansea to celebrate his birthday.
As they settled down to eat, the Daily Mail says, the boy's parents noticed that he pulled a strange face every time he swallowed what was supposed to be lime juice with water.
"He was obviously intoxicated", his mother tells the Daily Telegraph..