Call to reform adult social care funding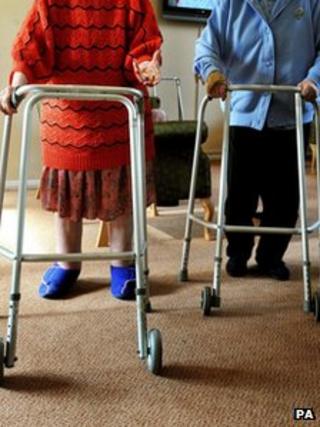 Council leaders in England are calling for urgent government action to reform the funding of adult social care.
Local authorities across the country are freezing or cutting the fees they are paying care homes.
The Local Government Association said the government had imposed cuts while refusing to decide how adult social care should be funded.
The Department of Health said local authorities must play their part in finding efficiency savings.
Local authorities in England are responsible for paying the care fees of people whose assets are less than £14,000.
An ageing population is increasing demand but public sector spending cuts are putting pressure on resources, which means councils in some areas are reducing the fees they are willing to pay.
As their income is cut, homes say their main costs - heating, lighting, food and staffing - are increasing. One care home said it was losing £260 per week, per resident, due to the funding cuts.
Ruth Isden, Age UK public services programme manager, said there was an "absolute need" to reform the funding of social care as it was compromising the care given to older people across the country.
"We need to look at what social care is and what it means to the people it supports. It's absolutely bread and butter, it's about helping people do the daily tasks we take for granted, to get out of bed, to get something to eat, to be clean, to be washed to be dressed," she said.
"We need to ask ourselves what do we value and I think people would say the system as it stands is not what they would want themselves and it's not what they would want for their families, so reform is an absolute priority."
A Department of Health spokesman said they recognised that social care system is in urgent need of reform but that local areas must play their part in finding efficiency savings.