Ken Clarke given trade envoy role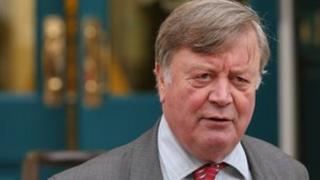 The veteran minister Ken Clarke has taken on a major new role as the UK's roving trade envoy.
Mr Clarke, who has served in numerous departments during a four-decade long career, lost his job as justice secretary in last month's reshuffle.
He will focus on selling British expertise to emerging economies, in particular China and Brazil.
A senior aide said Mr Clarke will focus initially on selling healthcare expertise and hardware to China.
The UK government believes this market could be worth £400bn in the next decade.
The prime minister has asked Mr Clarke to work with UK Trade and Investment and the Foreign Office as part of ongoing efforts to increase UK trade with emerging economies.
The energy sector in Brazil, where the prime minister recently visited, is another area of focus.
The role is likely to involve considerable foreign travel, but Mr Clarke could also expect to take a lead role in greeting and accompanying important trade visitors.
The 72-year-old Conservative MP for Rushcliffe is the most experienced member of the cabinet and has held most of the major offices of state in the past, including chancellor and home secretary, in a ministerial career stretching back to the early 1970s.
In the reshuffle he was handed a lesser role as minister without portfolio in the Cabinet Office, where it was intended he would act as a government "wise head" offering advice to Mr Cameron on issues including economic strategy.
He was replaced in the justice secretary role by employment minister Chris Grayling.
At the time Mr Clarke denied the move was a humiliation and he was "pleasantly surprised" to remain in cabinet.
He added: "At my age you do occasionally have to step down from a heavy departmental role before you suddenly realise you can no longer quite handle it."