Affordable housing 'trap' warning from MPs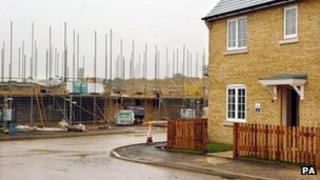 A government scheme to provide more affordable housing in England could trap some of its poorest residents on benefits, a committee of MPs warns.
The Commons Public Accounts Committee said in a report that properties built under the Affordable Homes Programme will cost more to rent.
The government has negotiated a much lower grant with providers.
But it says the new scheme will deliver 53,000 more affordable homes than under the previous funding model.
In its report, the Public Accounts Committee (PAC) also raised concerns about whether the programme would deliver the houses ministers have promised.
The committee also said it was also "not yet clear" whether the reduced grants would save money in the long-term.
The grants are £20,000 per home on average. The previous scheme could provide three times that total.
Benefit concerns
The Labour MP who chairs the committee, Margaret Hodge, said higher rents would mean higher payments of housing benefit for those out of work.
That, in turn, she said, would make it harder for claimants to find jobs that paid sufficiently well to make it worthwhile.
"The department must do more to understand the full impact of higher rent levels on tenants and ensure that resources are targeted where need is most acute," she added.
The MPs' report also warns that completing the homes on time leaves "very little room for slippage".
But Housing Minister Mark Prisk said the report failed to recognise the flexibility that the system offers.
"In many areas, landlords are opting to charge affordable rents at less than 80% of local market rates - with the average set at nearer 65% in London," he said, adding that anyone who was eligible for full housing benefit would have their rent paid in full.
The Affordable Homes Programme is meant to deliver 170,000 properties in England by 2015.
Social housing providers are now being offered up to £1.8bn in government grants.